Welcome to Moss Creek Goldendoodles Forum!
This forum is for Moss Creek Goldendoodle puppy owners to share stories, pictures and watch litter-mates grow. Here, we can organize McDoodles Romps and stay in touch with friends we've made along the way. Ren and Crystal, the Moderators, will be happy to answer any questions you have, or to help you with any problems you may encounter. All anonymous posts will be deleted. Don't be afraid to post with your name, we're a friendly group of Goldendoodle lovers. =)

Please friend us on our Facebook page - below - and if you are a puppy owner our Facebook group - "Owners of Moss Creek Goldendoodles" it's a very active group and easier to keep up with everyone than the forum. This forum was great for 10 years but is not as active now that everyone has Facebook and post there.

Please don't copy pictures from the forum posts. Pictures posted here are property of the owner and shouldn't be copied without permission.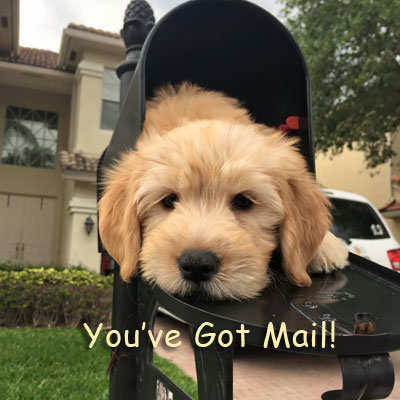 Special Delivery! Meet Hope! :)

Visit the Moss Creek Goldendoodles Website!


Visit Moss Creek Goldendoodles's profile on Pinterest.



Life's Abundance - The dog food we feed and recommend!

CHOMP - Puppy and Goldendoodle supplies!!


Receive daily forum updates.

Moss Creek Goldendoodles Website

Grooming Goldendoodles!

Contact Ren

The Ultimate McDoodle Forum list of Recommendations!