Jil sent a reply to my email about the time she jumped back in, here (I don't often toot my own horn, but I'll take credit for bringin' jil back to the board --- I dug up and wrote to her old email, after our recent Newbie asked about LVC shirts).
Also, I kept her original Post to TBn, with T-shirt Details: find it below ---- however, I have excised her eddy & address. I just don't like revealing that info publicly, without explicit permission. I'm sure she'll Post here again; when she does, she can decide whether and how to give out that stuff... (Also, she may have moved since?)
jil, save me two Extra Larges, eh? I'll check my budget and get you the dosh ASAP. ;)
FYI,
DCG.
jil
LEE VAN CLEEF The Bad T-Shirts !! FINALLY MADE THEM!!
Thu Apr 3, 2008 12:39
Hi there all you Lee VAn Cleef Fans. I have been wanting to make t-shirts on my own for awhile now. LVC was really a motivating factor for me and finally I have finished doing what I set out to do.
I couldn't find a LVC t-shirt so I wanted to make my own. And now here they are. I made some for us Ladies who Love Lee and of course all you Cowboy's out there.
I printed two sizes for ladies Medium and Large.
By ANVIL 4.2oz. 100% Pre-Shrunk Ringspun Cotton.
Cap sleeves, double-needle contrast stitching on
neck sleeves and bottom hem (you can barely see
this in photo). Side seamed for slim sillouette.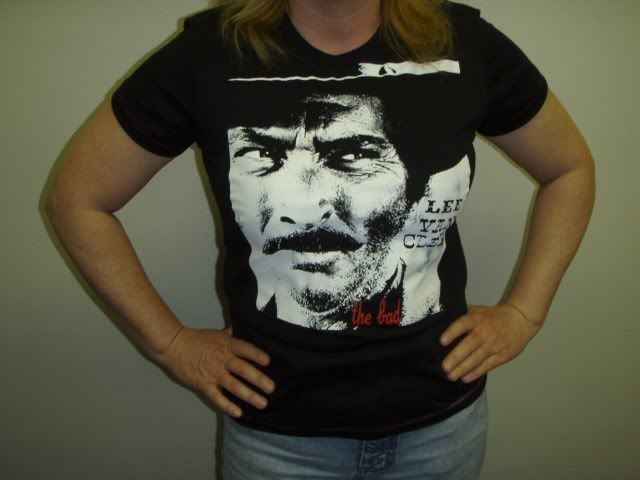 http://s84.photobucket.com/albums/k30/jilfreepress/
In the picture I am wearing a Size Medium. I'm 5'4" 38C
130ish pounds. Well, right now anyway. Sorry I have nothing smaller on black. And this t-shirt by itself retails for $10.
For the Frontier Fella's I've got Large (42-44),
XLarge(46-48)and XXLarge(50-52). By HANES Beefy-T
5.5oz Ringspun Pre-Shrunk 100% Cotton.
Double-Needle contrast stitching on neck and sleeves.
http://s84.photobucket.com/albums/k30/jilfreepress/
In the picture you see a photo of my partner Dan
wearing a Large. It fits him and looks really
nice though a bit big. He say's his real size
is 38-40. Sorry I did not make Mediums. But hey,
this tee is made super soft and it sits on the
body and makes it look really nice no matter who's
wearing it. My stepmom loves her XLarge and wears it to bed?! This t-shirt by itself retails for $10
**************So what I did was make a nice big print of Lee
**************on a nice quality blank t-shirt. I am selling
**************them for $25.
**************I also have
**************1 copy of BAD MANS RIVER(widescreen) and
**************2 copy's of CAPTAIN APACHE(pan'nscan) and
**************5 copy's of BIG COMBO
IF YOU'D LIKE TO ADD ANY OF THESE LEE MOVIE'S TO
YOUR ORDER JUST ADD $5. JUST LET ME KNOW.
I HAVE NOT PUT THESE ON EBAY YET BUT I PLAN TO.
FOR NOW WE'LL HAVE TO DO IT THE OLD FASHIONED WAY
AND JUST SEND ME YOUR ORDER BY GOING TO MY EMAIL.
MY EMAIL: [ removed, for privacy ]
I do have a PAYPAL account though I have never
used it for non-Ebay things. So as it is now you
will just have to get out your cash or make a
money order. SORRY NO CHECKS.
ADD $3 s&h for 1 item. Adt'l one dollar for each
adt'l item.
SEND TO:
T42 Press
[ address removed, for privacy ]
Houston, TX