"We're not going to have legalized weed anytime soon."
http://www.guardian.co.uk/commentisfree/2012/jun/16/obama-reelection-marijuana-legalisation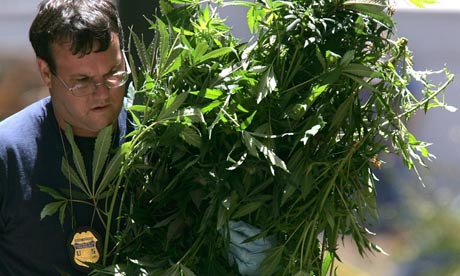 Many might point to a 2004 video where Obama says he wants to "decriminalize" marijuana, but in that same tape, he said that he doesn't want to legalize the drug. What Obama was really getting at was that he was not going to make the "war on drugs" a priority, and its execution should be re-thought.
He also said, during his 2008 campaign, that he would not use the federal government to stop people from enjoying medical marijuana in states where it was legal. In fact, Obama's justice department has been quite tough on all types of marijuana sales. Over 100 medical marijuana dispensaries have been raided during the Obama presidency. Obama claims that he cannot tell the justice department to "ignore completely a federal law that's on the books".
My conclusion is that the data are not clear as to whether a majority of Americans really does support the legalization of marijuana. What is pretty clear is that supporting weed won't help Obama win re-election. And it's entirely clear that Obama won't support marijuana legalization "anytime soon".
Those hoping he will may have to put that dream in a pipe and smoke it. At least, they probably won't get arrested.
http://www.guardian.co.uk/commentisfree/2012/jun/16/obama-reelection-marijuana-legalisation
=====================================
RADIO YOUR WAY:
http://www.apfn.net/pogo.htm