Would Obama boost his re-election bid by backing weed?
Apparent public support for marijuana legalisation leads some to suggest Obama may adopt the cause in 2012. It's a pipe dream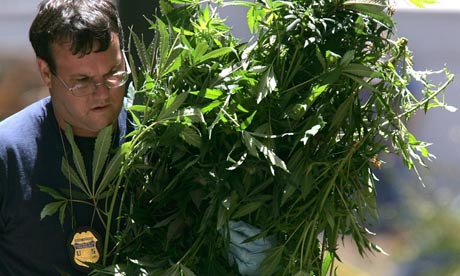 A blow to decriminalisation: in 2008, Barack Obama said federal prosecution of medical marijuana dispensaries would cease; that hasn't happened. Photograph: Justin Sullivan/Getty
The blogosphere has been abuzz in recent weeks over whether President Obama should legalize marijuana. Advocates argue that polls say a majority of Americans are in favor of allowing adults to be in possession of small amounts of marijuana. They further believe that coming out in favor of legalizing cannabis could result in more votes for Obama in the 2012 election.
But are these claims true? And is there any chance Obama will actually sing the praises of the doobie? There are three key factors to consider.
First, polling does show a rapid rise in support for the legalization of marijuana in the past 20 years, but a majority probably don't support it. It's not hard to look at this chart from Gallup and see the trend.
FULL REPORT
http://www.guardian.co.uk/commentisfree/2012/jun/16/obama-reelection-marijuana-legalisation