Loose kangaroo startles Washington state drivers
POSTED: 07/02/2012 08:55:26 AM MDT
UPDATED: 07/02/2012 08:55:27 AM MDTThe
Associated Press
PASCO, Wash.—Startled drivers weren't seeing things—it really was a kangaroo hopping down the highway in Washington state.
The meandering marsupial nearly caused a couple of accidents Saturday and police responded, keeping the 'roo off the road while its owner tracked it down and caught it with help from friends.
KNDO reports (
http://is.gd/hrDcO9
) owner lives in an area of the state where it's legal to own exotic pets. The Franklin County resident also has a zebra.
Read more: Loose kangaroo startles Washington state drivers - The Denver Post
http://www.denverpost.com/watercooler/ci_20989611/loose-kangaroo-startles-washington-state-drivers#ixzz1zToizt3S
Read The Denver Post's Terms of Use of its content:
http://www.denverpost.com/termsofuse
~~~~~~~~~~~~~~~~~`

Loose kangaroo safety hazard
Posted: Jul 01, 2012 8:30 PM CDT
Updated: Jul 01, 2012 9:25 PM CDT
PASCO, Wash.-- A kangaroo on the loose in Pasco Saturday not only surprised people but also was a serious safety issue.
There were nearly two car accidents on the 182 highway Saturday when the loose kangaroo jumped it's way across oncoming traffic. The kangaroo could potentially have caused a fatal accident as a large animal and distraction.
Pasco police received calls from many startled drivers and went to the scene to create a barrier of police cars stopping the animal from re-entering the highway.
The owner ended up tracking down the kangaroo with a group of people and took back to his home in the donut hole area of Franklin County where it is legal to have exotic pets with a license. It is not legal in the city of Pasco.
Pasco Police Sgt. Ben Majetich says, it was a very serious matter having an animal like that loose.
"It proposed a real danger on a highway. People driving in excess of twenty miles per hour and all of a sudden have to take an evasive action to avoid an animal on the roadway, potentially causing some serious accidents," says Majetich.
The owner did not get any type of ticket from Pasco police but Fish and Wildlife went to his property to inspect what barriers are in place to keep the kangaroo from getting out again. They also checked for his license to have an exotic animal in Franklin County and see that the animal was okay. The owner also has a zebra.
Sign In or Sign Up for an account.
Comments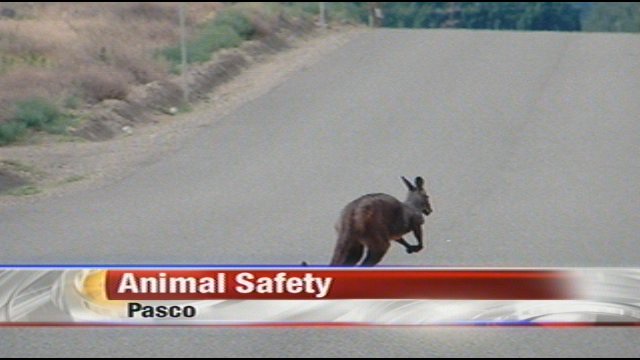 Watch video (1.19) here:
http://www.kndo.com/story/18928194/lo