Tampa, Fla. - The U.S. Air Force has yet to explain how a massive C-17 military cargo plane ended up landing at the wrong airport Friday.
The plane bound for MacDill Air Force Base on the southern tip of Tampa accidentally landed at the tiny Peter O. Knight Airport in the middle of homes on Davis Islands.
Peter O. Knight is approximately four miles north of MacDill but significantly smaller in size.
Witnesses and nearby homeowners near the airport, when the plane landed, say they could hardly believe their eyes and feared the aircraft may crash through the end of the small runway and end up in Tampa Bay.
"Two words: one starts with O and one starts with S," said Don Sipila, who guesses that's what was going through the pilot's mind moments after his C-17 touched down on the wrong runway.
"It was extremely loud, the wings were wavering a little bit because he was doing a curving type of thing. You could clearly see this was a maximum effort short field landing. You don't practice these things," said Sipila.
"We all thought he was going to go off the end. Clearly this was the wrong airport for this aircraft."
Sipila, a pilot himself, suspects the massive cargo plane got clearance to land at MacDill and thought that's where he was landing.
"MacDill is about five miles right off the end of this runway and it has the same number: 22 lined up in the same direction. But it's 11,500 feet long ... as a pilot I could see it's a long runway. This is only 35-hundred feet!"
Finally just before sunset, and after burning off several hours of fuel to lighten the plane's weight, the C-17 returned to the sky, taking off in a massive roar.
Hundreds of area residents gathered along the airport's fence line and cheered the plane's lift off with the same suspense of a space shuttle launch.
The Air Force has not released information on what caused the mix up or what might happen to the flight crew.
Airport officials confirm there didn't seem to be any damage to the runway despite the much heavier than expected load.
The airport was closed much of Friday evening as the C-17 blocked both runways.
Written by Beau Zimmer
Copyright ©2012 Pacific and Southern Company, Inc.. All rights reserved.
Watch video (1.09) here:
http://www.9news.com/news/world/279177/347/Caught-on-Camera-Massive-military-plane-lands-at-wrong-airport
~~~~~~~~~~
Plane Lands On Interstate 15 In Escondido, CA (VIDEO)
By JULIE WATSON 07/23/12 07:40 PM ET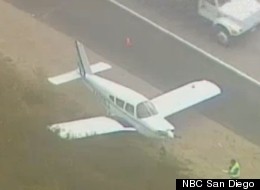 View more videos at:
http://nbcsandiego.com
.
44
21
3
10
GET LOS ANGELES ALERTS:
SIGN UP
REACT: Amazing
Inspiring
Funny
Scary
Hot
Crazy
Important
Weird
FOLLOW: Ken Gheysar, Ken Gheysar Interstate 15, Ken Gheysar Plane Landing, Highway 15 Plane Landing, Plane Emergency Landing, Plane Landing Escondido, Plane Lands Escondido Highway, Plane Lands Interstate 15, Plane Lands On Southern California Freeway, Los Angeles News
Pilot Ken Gheysar of Orange, Calif. landed his single-engine plane on interstate 15 in Escondido after he ran out of fuel.
SAN DIEGO — When his single-engine plane ran out of gas, 48-year-old Ken Gheysar did the first thing that popped into his head: He landed on a Southern California freeway.
Luckily, it was almost midnight on a Sunday and traffic was light on the southbound lanes of Interstate 15 in Escondido, north of San Diego.
The seasoned pilot said he guided his 1968 Piper down as soon as he spotted an opening. His wife and two cousins did not breathe a word while he focused on what needed to be done.
"I found a spot that didn't have cars right underneath me and went for it," he said. "You don't have too much choice, because you can't go back up."
Once they were on the ground, Gheysar said he rolled the plane over to the right-hand shoulder to get it out of the way as much as possible.
No cars were hit and no one was injured. Gheysar said he was amazed to see traffic continued to flow in the far lane.
"Basically it was just a quick reaction," Gheysar told The Associated Press, as he worked on getting the plane towed from the freeway Monday. "The fuel ran out and there was not much time, and there was not much else to do. Can I call you back? I've got some important calls I need to take about moving my plane."
A Dodge Dakota later clipped one of the plane's wings. Gheysar said it appeared the driver was pulling over to check out the plane with its flashing lights, and maybe misjudged the length of the wings. The driver could not be reached for comment. The motorist was not injured and his truck suffered minor damage.
California Highway Patrol Officer Jim Bettencourt said the pickup was one of only about two vehicles on the highway at the time.
"Wouldn't you know it, the one lone car out there on the highway just happened to clip his wing," Bettencourt said. "It caused enough damage that we couldn't just get him gas and fly him out of there."
Bettencourt said motorists were leaning out of their windows, snapping pictures with their cellphones at the unusual site.
"It wasn't chaotic," Bettencourt said. "It was a pretty normal scene, as if it were just a vehicle that had run out of gas and pulled over to the shoulder. I'm just thankful no one was injured."
Authorities later moved the craft to an off-ramp. It was towed to a lot to be repaired later that afternoon.
It was the second emergency landing by a plane on a San Diego County freeway over the weekend. A 74-year-old pilot who reported having engine problems shortly after takeoff landed on state Route 67 in Santee on Saturday. No one was injured. A highway patrol officer spotted the plane landing and helped keep traffic back.
Gheysar, a doctor from Orange, Calif., said it was his first emergency landing in nearly 20 years of flying. He said he and his family were returning from a weekend in Mammoth and were headed to Palomar Airport in Carlsbad when the engine suddenly quit.
He said the plane should have had enough fuel to fly another 30 minutes, and he does not know what went wrong.
When asked if he would fly again, Gheysar said, "Absolutely."
Will his family go with him again next time? "Probably not," he said, chuckling.
Watch video here:
http://www.huffingtonpost.com/2012/07/23/plane-lands-interstate-15_n_1695088.html