Sandy Hook massacre: Official story spins out of control
Niall Bradley
Sott.net Tue, 18 Dec 2012
The Newtown Bee
December 14, 2012
Sandy Hook School Principal Dawn Hochsprung told The Bee that a masked man entered the school with a rifle and started shooting multiple shots - more than she could count - that went "on and on."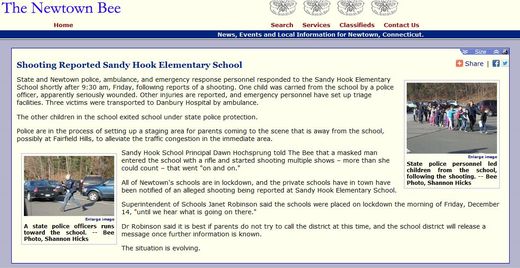 How could the principal have survived to give this statement to local press describing what happened ... if she was one of the first to be killed? Incidentally, The Newtown Bee's article was taken down yesterday. Of course, a plausible explanation is that a reporter mistook another teacher for the principal
.
http://www.sott.net/article/254873-Sandy-Hook-massacre-Official-story-spins-out-of-control
We were initially told that two handguns - a Glock and a Sig Sauer - were found next to the body of the dead shooter, while a third weapon, a .223-caliber rifle was also recovered "in the trunk of a car" later, in the school's parking lot. All of the weapons were allegedly legally bought and registered in Nancy Lanza's name. The car was later identified as a black Honda, also registered in her name. More weapons have since been introduced to the story but we'll get back to those later on.
Besides anonymous 'law enforcement officials' telling the media that Adam Lanza was a former pupil at the school, they also said his mother was currently a teacher there, that she was found among the dead and that her son had specifically sought out her classroom first. But when it emerged that teaching staff at the school had never heard of a Nancy Lanza, it was suggested that she was a substitute teacher whose name therefore mightn't appear on staff lists.
But this claim too has disappeared down the memory hole because it's now known that neither Nancy nor her son had any connection with the school whatsoever. Adam Lanza was in fact home-schooled. Nancy Lanza has since been painted as a "survivalist" who loved firearms, taught her sons how to shoot and was "stockpiling" because she was "worried about economic collapse."
http://www.sott.net/article/254873-Sandy-Hook-massacre-Official-story-spins-out-of-control