UFO Invisible To The Naked Eye But Viewable In Cam Screen
Posted on January 8, 2015 in N. America, UFO photos // 1 Comment
Colorado UFO
Saturn-like UFO was caught on the camera of a Colorado witness at Fairplay. Interestingly, the UFO was invisible to the naked eye, according to the MUFON report, Case 62246. The activity happened around 1:30 pm on 14th of December 2014 along Highway 285 while the reporting witness and his girlfriend were driving.
Amazed with the beautiful scenery of surrounding area, she decided to snap some photos, the reporting witness said. All of a sudden, she saw an object on the cameraís screen and then began to find it without using the phone.
She asked her fiancťe if he could see anything. She later realized that the object could only be seen through the camera screen on the phone. The woman then took two pictures very quickly.
Neither of them did see anything only with their naked eyes, but in the photo it seems as if the mysterious object was moving very fast. The two witnesses were going approximately 65 mph, and the photos were shot only a few seconds apart, yet the unknown aerial object seems to have travelled drastically.
According to the reporting witness, they canít identify it and are hoping that someone else can give them an idea. Fairplay has 679 population, the most populous municipality in Park County, Colorado.
2 Comments on UFO Invisible To The Naked Eye But Viewable In Cam Screen
Ovni // January 8, 2015 at 12:58 pm // Reply
Possibly on the camera lens or light distortion through the lens. Or a U.F.O anything is possible
Bitch
Might that picture be an instance of our elders from space allowing the picture of one of their space ships to appear, as a way to MARK the area for us to investigate here?
What might be happening in Fairplay, Colorado? Entrance to the underground maybe?
Aliens Among Humans Conspiracy
Posted on January 8, 2015 in Aliens, Conspiracy // 0 Comments
Alien conspiracy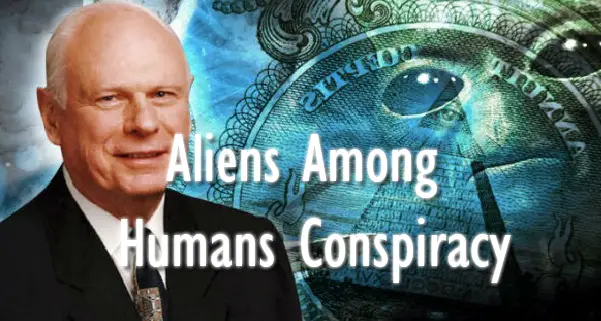 Aliens living among humans on Earth has been a conspiracy that many believe for a long time. These aliens supposedly mix themselves with humans to carefully observe our daily lives. Valiant Thorr in the 50s is one of the favorite examples of it.
Thorr allegedly came from planet Venus and got a job at the Pentagon. Presidents Dwight Eisenhower and Richard Nixon reportedly met him claiming he can give ideas to help US people live much better lives. While his extraterrestrial origin is up for debate, the manís name existed.
Phil Schneider, Area 51 engineer, claims he met Val. He described Val as a being with a thinking capacity that would be completely off the scale if measured. He estimated Valís IQ to be approximately 1200. He also said that Val can speak 100 languages fluently, including alien languages.
However, another man claimed that he knows aliens never share their technology until mankind stop polluting planet Earth. In 2013, Former Canadian Defence Minister Paul Hellyer stated in an interview with Russian TV that humans have a long history of UFOs and since the creation of the atomic bomb, there has been a lot more activity.
He explained that aliens are very concerned about the use of the atomic bomb again because the activity on Earth also affects the entire cosmos. Hellyer has said that at least four known extraterrestrial species have been visiting Earth for the hundreds of decades.
Hellyerís credibility is very much impressive. He was the Defence Minister during the Cold War. He combined the Canadian Air Force, Army, and Navy into the Canadian Forces. He is also the member of the Privy Council, the longest serving current member, ahead of Prince Phillip.
VIDEO AT:
http://www.latest-ufo-sightings.net/2015/01/aliens-among-humans-conspiracy.html
BITCH
Paul Hellyer is speaking the truth in both forward and reverse. The Beings are here all the time and they have been with us throughout all of our history.
If not for the presence of the Beings, nuclear war would have already taken us away.
Thank you Father for sending our elders in to spare us from nuclear war. We love you with all our hearts, minds and souls.
Crashing UFO Releases Orb over Southern California (Video)
Crashing UFO Releases Orb over Southern California
Published: 12:44 PM 1/7/2015
And that orb is some kind of escape pod...
by Dan Zinski Iíve waited my whole life for definitive proof of alien life and now itís here. This video posted on YouTube and widely discussed on Reddit offers the final irrefutable evidence that extra-terrestrials exist and are visiting the earth. And are not good at landing.
Okay jive turkey rational non-UFO-believers: IF ITíS A METEOR HOW THE HELL COME IT EJECTED AN ORB?
Thatís not a meteor itís a space ship. And that orb is some kind of escape pod. Itís so obvious. I mean use your eyes.
What other explanation can there be for that? Donít give me some optical illusion crap and DONíT tell me itís just a piece of the meteor breaking off. If itís a piece of meteor HOW COME IT GOES STRAIGHT UP?
I donít need a full understanding of optics to know when something is NOT an optical illusion, nor do I need a thorough grasp of physics in order to know when something ABSOLUTELY POSITIVELY DEFIES THE LAWS OF PHYSICS.
Knowing isnít about having learned a bunch of science crap, itís about BELIEVING and USING COMMON SENSE and KEEPING AN OPEN MIND.
Donít even come around here with your ďif itís a UFO whereís the wreckageĒ stuff. Obviously the government got to the wreckage before anyone else and spirited it away to Area 51 or wherever they store the wreckage now. OR the alien craft had a self destruct mechanism that destroyed all traces.
This one is open-and-shut. You canít possibly explain that video except as proof of alien life. No way is it fake and no way is it a natural phenomenon. You lose, non-UFO believers. Suck it skeptics. The whole debate is 100% OVER because of this video. Iím doing a happy aliens-are-real dance all over the grave of your doubts, book-learny smarty-farty so-and-sos.
Oh and to the aliens who are currently scouring the earth in search of aĖholes to probe: mineís nice and clean and I think you would find it very interesting. Drop me a line.
VIDEO AT:
http://www.ufocasebook.com/2015/orb-over-southern-california.html
[jumpugly]
jumpugly
3 hours ago
Mirrork...the person responsible for this comp actually took pains to get the orb to track with the movement of the camera. But, they totally dropped the ball with the matte pop as the meteor tail passes behind the telephone pole.
[Share] [Share]
[mirrork]
[Created by an administrator]
mirrork
2 hours ago
jumpugly & bratton, Tis perhaps difficult to remember everything as one tries to perhaps deceive.
[Share] [Share]
[bratton]
bratton
2 hours ago
Thanks, jumpugly.
I thought that was a possibility.
And the delay in publishing the video + disabling comments? VERY suspicious.
bratton
[Share] [Share]
[jumpugly]
jumpugly
4 hours ago
"Knowing isnít about having learned a bunch of science crap, itís about BELIEVING and USING COMMON SENSE and KEEPING AN OPEN MIND."
My mind is open...and It's still a FAKE...Mr. Zinski.
[Share] [Share]
[mirrork]
[Created by an administrator]
mirrork
4 hours ago
"Knowing isn't about having learned a bunch of science crap" ???????????????????????
That has to be one of the stupidest statements ever uttered.
We explore our world through both left brain "science crap" knowledge and right brain intuitive in-put. If not for the "science crap" we would still be throwing bones in the air and wondering how we could start "fire" like the lightning gods do.
[Share] [Share]
[jumpugly]
jumpugly
4 hours ago
Artist feedback so far...troubled animation, tracking average, too many matte pops behind the telephone pole.
But, the burning meteor reeks of particulate animation commonly found in cg programs like After Effects or Nuke. Nice try, but no cigar.
[Share] [Share]
[bratton]
bratton
4 hours ago
@jumpugly:
The white ball made me wonder a bit.
Using Ken Roberts' original video (link further down this page) :-
In frame 672 the white ball is round, but in Frame 673 there is motion blur which appears to coincide with the camera being moved back to follow the left hand object/trail.
Frame 689 sees the blurred ball leave the footage completely.
[Share] [Share]
[jumpugly]
jumpugly
7 hours ago
Not so sure about this one. But, like it all the same...other than the bold "definitive" statements made Mr. Zinski. Will give to the artists and have them take a look. More to follow.
[Share] [Share]
[frankdk]
frankdk
13 hours ago
Sure looks interesting, whatthehell???? And then againagain,,, when you sit in your home watcing all these vids you can't know if any of it is real
[Share] [Share]
[bratton]
bratton
19 hours ago
This "blurb" has little to do with the original Ken Roberts upload to be seen here:
I was driving home after work when this UFO or whatever you call it caught my eye. I pulled over in front of somebody's house to film it. I would have got a better shot but I didn't want to jump these peoples fence. Anyway I don't know what the hell to make of it. Couldn't have been a plane cause there was no noise. And I never heard a crash after either. The Orb thing flew straight up into the sky and disappeared. Sorry I didn't film that. I didn't know what to focus my attention on.
https://www.youtube.com/watch?v=DE1xcYXTZJI
[Share] [Share]
[irmensul]
irmensul
16 hours ago
Like the way they eject the escape pod & head straight back up towards space & away from earth..they been shot at & dont want any more encounters with the natives lol
[Share] [Share]
[bill pilgrim]
bill pilgrim
21 hours ago
ET crafts have been observed numerous times leaving some kind of dramatic vapor/smoke trail. I don't think it necessarily indicates a craft in distress. Could be as simple as a method for getting noticed. The ejected orb might very well be a smaller scout ship leaving a much larger craft.
As for Dan's "slam dunk" enthusiasm...a word of caution, Dan... even decades worth of credible evidence is not enough for the die-hard deniers. But, never lose your excitement!!
[Share] [Share]
[lattacy spodek]
lattacy spodek
20 hours ago
I don't know that this excellent footage is going to be considered "the smoking gun" that ends all controversy, but it is a great catch and certainly parallels the same kind of phenomena that I witnessed on 01/26/08 in northern Orange County California over the Brea / Yorba Linda area. The comet-like appearance with it's long glowing trail is the same as the two objects I saw drop down out of a solid cloud cover, maneuver oddly over the area, then stop in mid-air where their trails slowly dissipated to reveal two softly glowing white oval shaped objects. When the objects resumed motion the trails reappeared. Unlike this film, I did not see any other objects detach from either of the two main objects.
BITCH:
Might we be witnessing a warhead sailing in that is attached to a UFO, that is holding it into a controlled burst burn off?
Here's a picture of a nuclear warhead that was shot at us from Russia. It was burst off over Iowa city. About another 28 seconds or so of flight time, it may have been right over Des moines, the capitol of Iowa.
The first picture, with the jet bomber aircraft, shows an atomic bomb burst 25 miles away.
The second picture is the warhead that was pre-detonated 40 miles from Chelyabinsk, Russia. The third and last picture is a warhead burst off over Argentina.
More information at:
http://bitchworld.weebly.com/ufo-prevent-nuclear-shots.html