"We're trying to save you's and our receive you refused. Fused by the hostiles that have seized you's, over tonnage in the worst way. You killed the dream of the innocent."
Those words from one of our elders from outer space just a few minutes ago at 2.52 AM
We have been given an opportunity to save ourselves and have refused to receive our elders from outer space. Fused by the hostiles, weap Judah, and still funding him to die us out. Are we not over tonnage for sure? Is it not over tonnage in the worst way?
Will Labor not let them off and end killing the dream of the innocent?
"HUGE shoot Jewish." Tele receive. 3.11 AM
"A wholesale fail." Tele receive. 3.18 AM
Cancer, just about Judee's favorite way to take us away. Most cost effective kill he has invented. More sickness and death and bounce for the dollar than any other way he has come up with so far to put us to death.
"We're all out," Judee say.
Bitch has been so effective in spotting Judah tricks and telling everyone about them, that it has nearly ended his domestic operations. Except for catching some of the totally unaware fish, Judah is finished.
Unaware fish, still getting taken away because Judah still has quite a bit of money available to him. In fact, he is the only person that American Labor is authorizing to issue our money, so he still can issue big fat checks for blazing God's kids.
"Thank you, you're much useful." Tele receive. 3.04 AM
"Your welcome." Bitch says. That is the desire of this chair, to be useful.
Bitch traveled to Clear Lake, Iowa the other day to visit Guardian Angel chapel. Here are some pictures and some information about Marguerite Williams the young lady that was saved by her Guardian Angel when she was girl.
The plaque on the wall at Guardian Angel chapel in Clear Lake, Iowa
The plaque reads:
I've got my Guardian Angel watching over me
Yet I must still step carefully
I've been given the choice to decide,
But if I'm not careful, I just might slide
The same holds true for my spiritual walk
I must take time with Jesus daily and
Cause if I'm not careful I could fall down
Then my feet won't be on solid ground
So I will live my life prayerfully and take
each step through life carefully
Then I'll be able to keep my Guardian Angel
watching over me
The plaque on the door at the entrance to the chapel.
Romans 8:28
We know all things work together for those who love God, those who are called according to his purpose.
This is the gate where the path to Guardian Angel chapel begins
The Guardian Angel chapel a few hundred feet in
Inside the chapel
The bible page that was open on the chapel lectern with Jacob in the safe arms of an Angel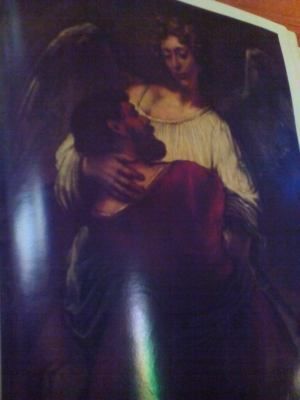 A pamphlet telling the story of Marguerite Williams and how her Guardian Angel saved her from harm.
Marguerite was born in 1891 and passed away in 1991.
The pamphlet tells of a dark cloudy day in Clear Lake and an attempt to kidnap Marguerite that was made and how she was saved when there suddenly appeared a bright light and a figure clothed in brilliant white robes, that stepped between Marguerite and the ruffians that had made their move to take her away.
Suddenly the dark cloudy skies disappeared and it became a bright sunny day with flowers blooming in the gardens by the way.
Marguerite knew that the love of God had saved her that day. Her Guardian Angel had stepped in.
Bitch just visited the Guardian Angel chapel for the second time this year, and had a chance to visit on the phone with Marguerite's nephew, John Kennedy. Mr. Kennedy is the nice man who built Guardian Angel chapel in memory of his aunt.
Bitch, having had numerous near life ending situations that seemed odd at the time, only now knows that it was his Guardian Angel that kept him in.
Do we see how Judah has plans on the shelf to take our useful out of here and neutralize them while they still are young?
Thank you Grandfather for saving my life, as you have done so many times.
"Chump," Judee calls Bitch. Does it seem that Bitch is a guy who has some clues as to what is going on and runs around telling the rest of the kids? Bitch sees some things different, and is certain that war is not of us at all.
NO independently funded grand juries, so we have little to no guidance from the people. Little input as to how our world should be. Little true information to clue us as to just how far away we are from the right way to live and govern ourselves in peace.
"Irritate some." Tele receive. 740 AM
Bitchie must have had some irritate in yesterdays post. Will try to find any and remove it from today's and all the posts.
"They're failed, it's true." Tele receive. 6.37 PM last night.
In the eternity of time of the universe, has Judah few seconds of time not passed?
"They went the wrong way and got good at it." Budget Judee say.
"My God's a beautiful force." A semi passed and said.
Is Popi's force not the beautifullest of them all? Sure is.
Marguerite Williams Guardian Angel was Grandfather, who was also Bitch's Guardian Angel.
Bitch mentions Grandfather with the profoundest respect and honor to Grandfathers dignity.
Grand father had 8,000 of God's children on earth in his care. For 600 years Grandfather served to guard over the children of God on planet earth.
Grand father is retired now. He is a little over 1600 years of age. That is the age that the Galacticans retire at. Thank you Grandfather. Your kindness and love is felt and so appreciated. Thank you for your strength to carry on with such sweet kindness.
Might we not guess that the gypsies that set about to kidnap Marguerite that gloomy day in 1910, were in reality, Judah highwaymen?
Visiting with Jack Kennedy, her nephew, revealed that Marguerite was born in Wisconsin to Charles Williams, who was a state senator from Fox Lake, Wisconsin. She was the 10th of 11 children.
Marguerite was a schoolteacher for part of her career. Worked for an insurance company in Mason city. She had red hair and some called her "Red top." Her sister, Octavia, was John Kennedy's mother.
She had no fear for her personal safety for the rest of her eighty years after she experienced the protection of her Guardian Angel that day.
Judah, cannibal hunter that he is, always goes for the head. Might we only wonder, the fact that her father was so accomplished in politics, have made her a target of Judah to steal her away?
Might we have gotten so wealthy here in America that we have blinded ourselves and failed to see correctly that we have a good God above that wants things fixed up for all of his kids here?
Do we see that with Judah as the only one that can issue our public money, we do not get real grand juries that can investigate things for us?
"Your spirit's left the least of us die. They've got us cashed already." Tele receives. 12.53 & 1.06 PM
Bitch thinks it is the spirit effect that has caused us to fail so badly. Just couldn't get the spirit back after once insulting you's.
As for leaving the least to now die, God almighty hears the prayers of all of his children. For those who love God and fear the Lord, you shall be spared from what we have funded and put upon ourselves here.
The force of God our Father is the kindest, most benevolent force of them all. Our good God is a beautiful force. Believe in him and save yourselves.
Is it not certain that the beautiful force of God our Father can do anything but fail?
STRIKE THEM OUT Labor. Bring us to the peace of God. Take the authority to issue our money into your hands as God wills.
Is it not clear that we must STOP THE WAR if there is to be any expectation to live?
"Obviously you accomplished it." Tele receive. 1.13 PM
With the Love of God to hold Bitch in, Mercury, Mars and Venus have left Judee let himself off. Is it not clearly true that obviously Judah is finished with us as we are with him?
If this is understood, will Labor not listen to our God above and "FINISH IT?"
"Our sight just got too brutal, we're leaving with our genius. Bitch, you fair us away. You were brilliant to make us," Judee say.
STRIKE THEM OUT! End this spreading genocide NOW Labor. Will we not pray that the spirit will be rekindled and come on in once again?
"You poisoned your psyche." Tele receive 3.25 PM
Might that not be a good take on what Bitch did when he had his blooper attack? Will Labor not pick up the pieces here and step around this accidentally poisoned psyche and STRIKE THEM OUT for God's sake?
"Their moisture failed, they've gone crazy with jails." Tele receive. 3.42 PM
"With despots you're failures, you're complete dead boys." Tele receive. 1.21 PM
Here, the last in Tele receive of this day that may hopefully give us a way:
"We're dying in fear that's easy to escape."
Labor, do you hear the bright Tele receive? We're dying in fear. Will Labor not help us escape?
If Labor will help us then please, STRIKE THEM OUT!
In the name of our good God above, will Labor not put in a committee of the whole to be the new issuer of our money?
God Bless us all.
Love God
Have mercy
~~~~~~~~~~~
Saturday, August 22 — Psalm 102:23–28
Jeremiah 19:10–21:10; 1 Timothy 4:1–10
The Lord is good to those who wait for him, to the soul that seeks him. Lamentations 3:25
Indeed you have tasted that the Lord is good. 1 Peter 2:3
God of grace, God of glory, your delight is our joy. Our delight is to be loved by you. Open wide our hearts to receive your goodness in our lives. Amen.
Continues at:
http://www.wisefishreport.com/stop-the-war-in-gods-name.html
"Have pity on me, and I will have pity on you. Give me my hands, and I will give you peace. The more you honor me, the more I will bless you."
Be thou with me my joy and gladness
In deep repose my soul shall rest
My heart is glad when thou art near me
My eyelids closed by thy tender hands
My eyes with love will rest on thee
Johann Bach (1685-1750)
~~~~~~
While thinking about getting some breakfast, elder indicated that they will pull any radioactive waste out of my personal food supply.
Elders have a "Bubble" technology that can do a myriad of useful things. They can put a bubble on something and heat or cool it. Their bubbles can record and then retransmit sounds of computer bits.
With temperature use of bubbles they put into missile circuitry, they can reconfigure the operation of the circuit board.
They can put a bubble on a tank of gasoline and decontaminate it from boron that is mixed in.
A bubble can be placed over human Beings and prevent radioactive waste particles from reaching the person that is in the bubble.
Will Labor not help us to bring this new to us technology of nuclear decontamination in?
"Do good. Tele receive. 2.50 PM
"Pepper heresy."
"Bye."
THE END