Alien Hunters Find The Mother Of All UFOs Nearby
Posted on November 30, 2015 by LUFOS in Latest posts // 1 Comment
sun-ufo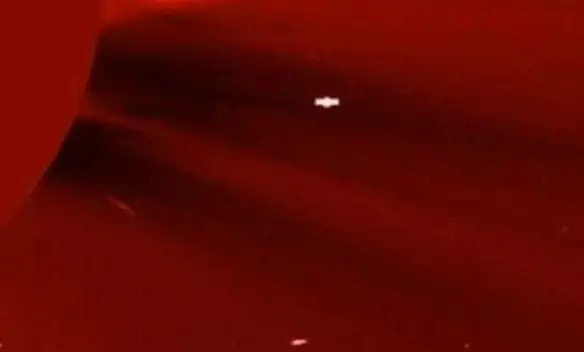 A mysterious unidentified flying object (UFO) on NASAís images has created speculation among UFO hunters.
UFO chasers believe that the object is flying very close to the Sun, which nothing has been invented so far by humans that could fly that close. They suggest that itís impossible this object could be some spacecraft from Earth.
National Aeronautics and Space Administration (NASA) special telescopic cameras took the images to monitor activities around the Sun.
If this object is a kind of alien spacecraft, then it would be about the size of a planet or even bigger. Some UFO hunters suggest the large space object is an alien mothership.
The odd symmetrical object looks like the famous Tyne and Wear landmark, the Angel of the North. Based on human technological standards, such distance from the sun is extremely dangerous.
http://www.latest-ufo-sightings.net/2015/11/alien-hunters-find-the-mother-of-all-ufos-nearby.html
UFO PREVENTS NUCLEAR SHOTS
The picture above of two great fireballs in the sky is from Vera Beach, Florida of a CE-5 event. That is where the viewers had been visiting with our extraterrestrial elders from space and agreed ahead of time to meet there.
Possible meteor captured flashing across night sky in Iowa
12 hours ago December 29, 2013 3:26PM
A GIANT 'ball of fire' which shot across the night sky in Iowa in the US Midwest has been captured in incredible security footage.
That is the great ball of fire that was burst off before reaching Chelyabinsk. Might we wonder who has such technical capability to approach from behind and shoot a rod right through the great ball of fire?
The flash of the exploding nuclear warhead of an air-to-air rocket is shown as a bright sun in the eastern sky at 7:30 a.m. July 19, 1957 at Indian Springs Air Force Base, some 30 miles away from the point of detonation. A Scorpion, sister ship of the launching aircraft, is in the foreground.
(National Nuclear Security Administration / Nevada Site Office)
The picture to the right is of the fireball that exploded over Chelyabinsk, February 15, 2013.
To the farthest right is the fireball over Argentina 4-21-2013
Details at:
http://bitchworld.weebly.com/ufo-prevent-nuclear-shots.html