Green Flashing' UFO Spotted before Egypt Air Crash, Claim Turkish Pilots
UFO Depiction
Published: 7:24 PM 5/25/2016
shortly before the downing of the Egyptian aircraft...
By Asia News International
Melbourne: The mystery revolving around the tragic crash of the Egypt Air Flight 804 into the Mediterranean Sea seems to be becoming more complex with two Turkish Airlines pilots claiming that an Unidentified Flying Object (UFO) with green lights passed over their plane shortly before the downing of the Egyptian aircraft.
Quoting The Sun, news.com.au reports that the pilots, who were flying from Bodrum to Istanbul, reportedly saw the unidentified object last Thursday night close to Istanbul's Silivri District when the plane was at 17,000-ft at 11.30pm.
According to The Hurriyet Daily News, the Air Traffic Control at Istanbul was told by the Turkish Airlines pilots that an unidentified object with green lights passed two to 3,000 feet above them.
The pilots further said that the object, which they are guessing it to be an UFO then disappeared all of a sudden.
Meanwhile, Egyptian President Abdel Fattah el-Sisi has said a submarine has been deployed to the Mediterranean Sea to search the black boxes of the Egyptian aircraft that went missing en route from Paris to Cairo.
While searchers have recovered parts of the plane wreckage, including passengers' personal belongings, life vests, aircraft chairs and even body parts, scouring the Mediterranean is still on to find the fuselage and flight data and cockpit voice recorders that would likely reveal what went wrong on the flight.
So far, no survivors have been found, and authorities are still examining what have caused the plane with 66 people aboard to crash into the sea early Thursday.
Fathi has said that 30 passengers were Egyptian, 15 French, including an infant, and passengers from Iraq, Britain, Belgium, Kuwait, Saudi Arabia, Sudan, Chad, Portugal, Canada and Algeria.
http://www.ufocasebook.com/2016/turkey-pilots-report-ufo-with-green-light.html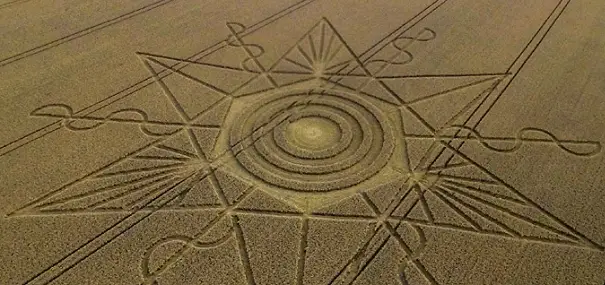 Past UFO and Crop Circle Clips: Are We Fascinated With Aliens?
Posted on June 12, 2016 by LUFOS in Crop circles, Latest posts // 0 Comments
crop circles 2014
Even in this age, where science and technology have boomed so significantly, the mystery about aliens rests with the anonymous possibilities of knowing them.
According to other experts, a lot of us do not even accept that aliens are a detail and not imagination.
There are many kinds of stuff about aliens that people think about.
However, with the contradicting answers due to the different views, experience, and perceptions of people, everything about them looks to be a complete mystery.
When will the mystery uncover itself? As soon as it reveals, will it give you the answers you were looking for?
Much of the fiction genre is covering stories about alien species.
Why are aliens so fascinating to writers and readers alike? Well, alien species are blank creatures, we can do with them what we like.
This recently discovered video of a strange object caught circling a secluded field might prove that alien theory does exist.
The clip was filmed in Wiltshire near Oliver's Castle.
It has a small white dots that appear to be hovering haphazardly above a cornfield.
As the objects travel around the field in circular formations, it appears in the corn beneath and suddenly disappear, leaving traces of mystery circles in their wake.
Crop circles have appeared since the 1980s and became the subject of paranormal investigators.
While many believe them as a sign that extraterrestrial creatures are communicating the Earth, some scientists discredit this theory.
According to a research professor working at the National Institute of Aeronautics and Space, the 'thing' cannot be scientifically proven."
Therefore, the mystery runs on. Despite the controversy, the particular video has resurfaced. Whether or not you believe in aliens, the question of their existence still exists.
According to a foreign expert, there are over 200 species visiting Earth regularly.
Meanwhile, in the North East of England, the sightings have had enthusiasts convinced of their existence.
VIDEO 0.33 AT
http://www.latest-ufo-sightings.net/2016/06/past-ufo-crop-circle-clips-fascinated-aliens.html
PS POST
Glowing UFOs over Nevada: Are These Mystery Craft......
Sat Jun 11, 2016 22:04
VIDEO 16.41 LINK AND ANALYSIS AT
http://disc.yourwebapps.com/discussion.cgi?disc=149495;article=156243
;
UFO PREVENTS NUCLEAR SHOTS
The picture above of two great fireballs in the sky is from Vera Beach, Florida of a CE-5 event. That is where the viewers had been visiting with our extraterrestrial elders from space and agreed ahead of time to meet there.
Kosher meteor captured flashing across night sky in Iowa
UFO Fireball Comet Meteor over IOWA close up
VIDEO 1.10
https://www.youtube.com/watch?v=paa6fwsh4lg
12 hours ago December 29, 2013 3:26PM
A GIANT 'ball of fire' which shot across the night sky in Iowa in the US Midwest has been captured in incredible security footage.
That is the great ball of fire that was burst off before reaching Chelyabinsk. Might we wonder who has such technical capability to approach from behind and shoot a rod right through the great ball of fire?
The flash of the exploding nuclear warhead of an air-to-air rocket is shown as a bright sun in the eastern sky at 7:30 a.m. July 19, 1957 at Indian Springs Air Force Base, some 30 miles away from the point of detonation. A Scorpion, sister ship of the launching aircraft, is in the foreground.
(National Nuclear Security Administration / Nevada Site Office)
The picture to the right is of the fireball that exploded over Chelyabinsk, February 15, 2013.
To the farthest right is the fireball over Argentina 4-21-2013
NUCLEAR WARHEAD IN A CONTROLLED BURN OFF BY SIR CASPER OUR MARTIAN NEIGHBOR AND GOOD FRIEND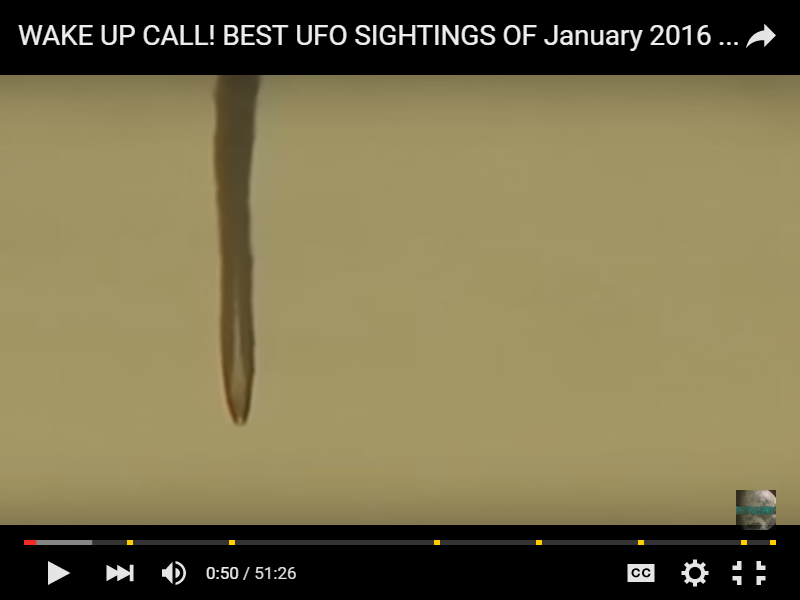 CONTROL BALLS HOLDING WARHEAD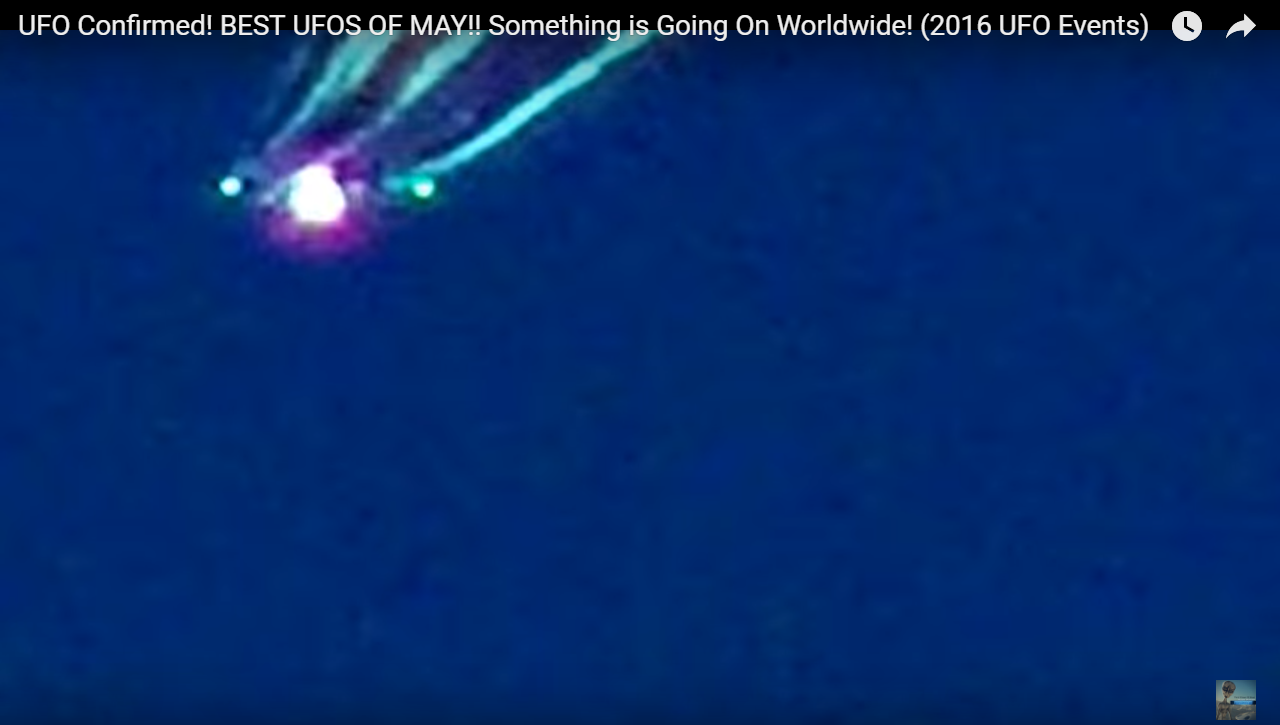 SMOKE DONUT ON MISSILE LAUNCH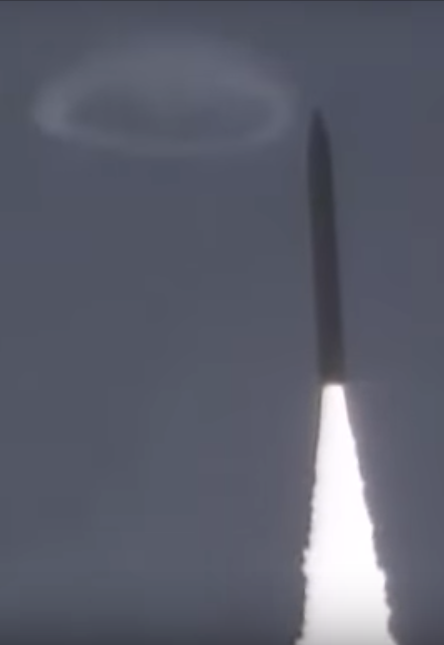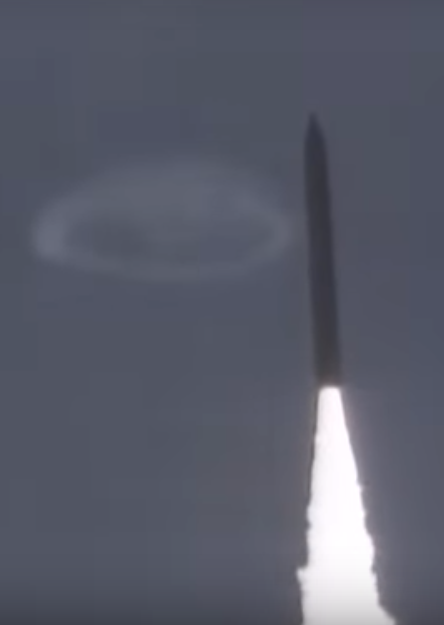 Details at:
http://bitchworld.weebly.com/ufo-prevent-nuclear-shots.html