Woman wrongly jailed 96 days without bail appeals denial of civil rights violation
The Guardian Jamiles Lartey
18 hrs ago
Hidden-camera victim drops suit against Fogle, accomplice © Oktibbeha County Sheriff's Office via AP
This undated photo released by the Oktibbeha County Sheriff's Office, shows Jessica Jauch.
A Mississippi woman is appealing a district court's ruling that her nearly 100-day incarceration in a county jail, without being offered bail or an attorney, did not violate her civil rights.
The ruling, handed down by district judge Sharion Aycock last month, outlines a little known gap in constitutional law that in certain scenarios can lead to extremely long pre-trial detention periods for minor crimes, for no compelling reason.
Despite the fact that the woman, 34-year-old Jessica Jauch, was only accused of the sale of a small quantity of prescription drugs, county officials held her for more than three months due to the county's own scheduling convenience, as the criminal court was out of session at the time of her arrest.
Aycock's ruling that this was not a violation of her rights has deeply troubled civil liberties activists and scholars, who are now looking to use the case to highlight some of the most unfair and under-discussed practices of the criminal justice system.
"The supreme court has never specifically said, this is the amount of time the court has to provide a prompt bail hearing," said Brandon Buskey, a senior staff attorney at the Criminal Law Reform Project of the ACLU.
"It's kind of this void where the states can make up their own rules. But one would think that the time to have a prompt bail hearing is prior to three months after they've been taken into custody," Buskey said.
Jauch was arrested for misdemeanor traffic offenses in Starkville, Mississippi, in April of 2012.
Shortly after her arrest, authorities located a felony drug warrant for Jauch out of Choctaw County, one county over from where she had been picked up, and transferred her to the custody of the sheriff there.
According to Jauch's court filings, from the moment she was transferred to the Choctaw County jail, she asserted her innocence to anyone who would listen, and asked to be taken before a judge so she could post bail.
The county sheriff, Cloyd Halford, allegedly told Jauch and her friend that he did not have to take Jauch before a judge until the next court term, which was about three months away. At no point during this time was Jauch provided an attorney.
The warrant Jauch was being held for was issued over an alleged drug sale of eight tablets of alprazolam, a commonly prescribed anti-anxiety drug widely known by its trade name, Xanax.
An informant told prosecutors that Jauch had sold her the tablets for $40, and prosecutors managed to secure a grand jury indictment for Jauch, likely based on this testimony, although it can't be sure exactly what evidence jurors heard, as grand jury proceedings are confidential in the US.
Prosecutors also stressed that videotape existed of the transaction which clearly showed the transaction.
Sheriff Halford allegedly told Jauch's mother that they had her daughter "dead to rights" committing the crime on video "and that she was going to prison for a long time and was a terrible person", according to Jauch's complaint.
But once Jauch was finally taken to court, 96 days later, the state's case utterly crumbled. Her newly appointed council watched the videotape and found that it depicted no such crime, and in fact merely showed Jauch borrowing $40 from a friend.
That friend, who was the state's confidential informant, had, as the complaint alleges, "used her own narcotic pain pills to frame Ms Jauch in order to gain leniency for her own crimes".
After Jauch's attorney brought the contents of the tape to the prosecutor, the charges were promptly dropped.
The deeper problem is that when people get those bail hearings, they're often meaningless because they are unaffordable
Alec Karakatsanis, Civil Rights Corps
While the failure of prosecutors to either watch or disclose the contents of the video is troubling, none of the facts of the failed indictment are particularly novel.
Prosecutors routinely secure shaky indictments of suspects that are later dropped.
But for Jauch, this bad indictment meant losing three months of her life without even being offered the possibility to secure a pre-trial release, a right that Jauch's suit against the county claimed are guaranteed by the fourth, sixth, eighth and fourteenth amendments to the constitution.
But Aycock, the district judge, dismissed those claims one by one in her decision.
She argued, among other things, that because Jauch was indicted by a grand jury she lost her right to a probable cause hearing under Mississippi law.
Typically these hearings happen during the initial appearance before a judge when someone is arrested, and also include the setting of bail.
But just because Jauch had lost her right to the former, Buskey said, it doesn't have anything to do with the latter.
The first part "only answers the question of whether the initial custody was lawful", Buskey said.
"In order to fully address this case you have to get at, how long is it legal to hold somebody before or after indictment without any kind of court process."
Alec Karakatsanis, executive director of the Civil Rights Corps, said he thinks case law is on Jauch's side, citing language in the case of US v Salerno that declared access to pre-trial liberty a "fundamental right".
"Once you call something fundamental right, if the government wants to infringe that right, it has to meet strict scrutiny," Karakatsanis said.
"There's absolutely no way that delaying [a bail hearing] more than a few days is going to be a narrowly tailored way of furthering any compelling government interest."
Karakatsanis added that for all the problems Jauch's case raises, the fact is that many more Americans who are given bail hearings are still held in the same unnecessary limbo by being offered bail so high they simply cannot pay.
"The deeper problem is that when people get those bail hearings, they're often meaningless because they are unaffordable," Karakatsanis said.
"This is all just indicative of a system that is indifferent to the horrific harm caused by locking people in cages."
http://www.msn.com/en-us/news/crime/woman-wrongly-jailed-96-days-without-bail-appeals-denial-of-civil-rights-violation/ar-AAjeLP7?ocid=iehp
Related: California judge who mocked blind man emblematic of failed traffic court system
Judge Taylor Culver is accused of 'willful misconduct' by the state's commission on judicial performance, providing a rare window into how police agencies and courts use traffic courts to target low-income people
Prentiss Mayo, who is legally blind, said of his appearance before traffic judge Taylor Culver: 'I've never been so embarrassed in my whole life.'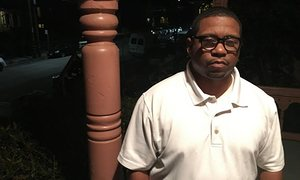 Photograph: Sam Levin for the Guardian
Sam Levin in Oakland, California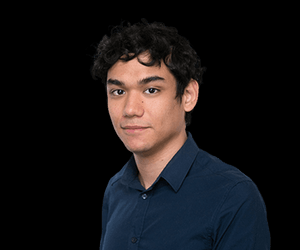 Thursday 20 October 2016 09.12 EDT Last modified on Thursday 20 October 2016 10.11 EDT
When Prentiss Mayo showed up to traffic court on 19 October 2015, he tried to explain that he was blind and that his impairment affected his case.
Judge Taylor Culver wasn't having it.
"I don't believe any of it," Culver said repeatedly in his Oakland, California, courtroom before he ordered Mayo to pay a $221 fine on fare evasion charges.
The case was quickly closed, but the judge's dismissive remarks about Mayo's blindness didn't stop.
"Sit over there," Culver said.
"Sit over where?" Mayo replied, confused.
Culver laughed. "Man, I like this. You really got style. It's all lies. Sit over there on the right-hand side of the courtroom."
Mayo, 34, was stunned to hear the mockery and asked again where he should go.
"You'll find it," Culver replied.
"I've never been so embarrassed in my whole life," Mayo said in a recent interview, explaining that he lost his vision after a stabbing attack. "It just really felt like he denied my whole experience."
This week, Culver, who some attorneys say is one of the cruelest traffic judges in the state, was accused of "willful misconduct" by the California commission on judicial performance.
The case offers a rare window into the inner workings of the controversial traffic courts that have burdened low-income people with insurmountable debts for minor offenses.
The charges – which chronicle Culver's "rude" and "harsh" treatment of defendants and "abuse of authority" – come at a time when advocates across the country have increasingly raised alarms about the way police agencies and courts try to collect revenue from marginalized communities through exorbitant fines and fees for low-level citations.
In Ferguson, Missouri, where reports on the mistreatment of black residents sparked national protests, municipal leaders have faced widespread criticism for issuing tens of thousands of warrants for minor offenses, trapping poor people in cycles of debt and poverty and disproportionately targeting minorities.
Continue reading at:
https://www.theguardian.com/us-news/2016/oct/20/traffic-courts-low-income-people-minorities-california