'The system failed her': behind a suicide spike at a California women's prison
Advocates for female prisoners say that poor mental health care is causing preventable deaths at the California Institution for Women
During an 18-month period from 2014 to 2015, there were 4four suicides and at least 20 suicide attempts the institution.
During an 18-month period from 2014 to 2015, there were 4four suicides and at least 20 suicide attempts the institution. Photograph: Alamy
Jessica Pishko
Tuesday 10 May 2016 10.01 EDT
At 14, Erika Rocha pleaded guilty to attempted murder in a shooting. Tried as an adult, she was sentenced to 19 years-to-life.
At 16, Rocha was incarcerated in solitary confinement in an adult prison until she turned 18, allegedly for her own protection from other inmates.
At 35, the day before her first parole hearing and just after being released from yet another stay in suicide watch – solitary confinement in a suicide-resistant room – she hanged herself in her cell at the California Institution for Women (CIW).
"She needed help," Rocha's sister Geraldine said. "She needed somebody there for her, not to say: 'Here, go sit in a room by yourself and maybe it will go away.'"
Rocha's suicide is just the latest in a spike at CIW, in San Bernardino County. During an 18-month period from 2014 to 2015, there were four suicides and at least 20 suicide attempts at CIW – eight times the national rate for female inmates and more than five times the rate for all California's prisons.
In comparison, there had been just three suicides at CIW in the previous 14 years.
According to advocates at the California Coalition for Women Prisoners (CCWP), 22 women have been added to suicide watch since Rocha's death, so many that they are being housed in security housing units – solitary confinement cells intended for punishment, not mental health care.
Michael Bien, a lead attorney in Coleman v Brown, an ongoing lawsuit against the California Department of Corrections and Rehabilitation (CDCR), said: "Once you start using segregation for suicide watch, you've lost."
Colby Lenz, an advocate with CCWP, said: "The prison system failed Erika and her loved ones. After years of failed suicide prevention audits and CDCR negligence in remedying court-ordered violations, the blatant inaction of CDCR and CIW led to Erika's tragic and preventable death."
In 1995, a judge in the Coleman suit found that the standard of mental health care in California's overcrowded prisons was so low as to be unconstitutional and ordered that mental health care for all of California's prisons be placed under independent control.
But advocates and a recent independent report warn that despite the decades-old judicial order to improve mental health care for inmates, there have not been enough changes by the CDCR to stem what were preventable deaths.
Neither the CDCR nor the healthcare receiver's office responded to a request for comment.
The state's office of the inspector general said this month that it was taking steps to address the recent surge: "We have increased our usual monitoring practice with regard to attempted suicides by female inmates.
We are currently conducting a case review as described above for every attempted suicide and are responding on-scene to all attempts that result in serious injury.
We are also collaborating with CDCR regarding steps being taken to improve suicide prevention efforts at CIW."
The inspector general's office said that they were monitoring Rocha's case and others.
In January, Lindsay M Hayes, a prison and jail suicide expert who advises facilities across the country, filed a nearly 150-page report on CDCR facilities as part of the 1995 judicial order that requires periodic reporting.
According to Hayes' report, the CDCR had done little to improve identification of women who needed treatment.
CIW logs that Hayes reviewed showed that, from October 2014 through March 2015, only nine women were sent for emergency care due to suicide risk.
Yet he found over 400 referrals for suicidal behavior over the same period, a "staggering disparity".
One of the more troubling suicides in the report occurred in March 2015, when a woman in her 30s, nearing the end of an eight-year sentence, hanged herself in her cell.
Despite a long history of abuse, psychiatric illnesses dating back to her first hospitalization when she was 13, self-mutilation and multiple suicide attempts, including one less than a year before her death – she was listed as "low risk" for suicide.
The report also said that CIW had not ensured safe housing for all suicidal inmates – meaning there is nothing they can harm themselves with.
The prison was also denying women in mental heath treatment access to yard time; only two of the women had been outside in the last month.
Bien, who has been working to improve mental health care conditions in CDCR facilities for over a decade, points to a host of reasons for the spike in suicides: "Overcrowding, understaffing and ineffective management and supervision all contribute."
He adds that CDCR has had appropriate procedures for mental health care and suicide prevention for some time, but "it has not been able to successfully train and implement the policies in a consistent way".
Female inmates are a uniquely vulnerable group as compared to men; 85-90% of women sentenced to life have been physically and sexually abused, and, according to a 2005 Bureau of Justice Statistics report, 73% of incarcerated women have a diagnosed mental health problem.
(The average across all California prisons is just under 50%, according to a study out of Stanford Law School.)
And while the men's prisons have steadily decreased their numbers, the women's still suffer from severe overcrowding.
According to the CDCR's reports, CIW is currently at 132% capacity, which is below the court-ordered population cap of 137.5%) and Chowchilla prison is at 145%.
Both facilities are under-resourced, say advocates who have called for improved monitoring and resources.
While the CDCR has made steps to reduce prison populations and improve the identification of women in need of treatment, there is still the simple math problem of too many people and too few resources.
~~~~~~~~~~~~~~~~
Life in solitary: 'I can't see the sun rise, or the moon at night'
https://www.theguardian.com/us-news/2016/may/10/suicide-california-womens-prison-mental-health
Life in solitary: 'I can't see the sun rise, or the moon at night'
Tyreik Gilford is just one of as many as 100,000 inmates held in isolation in the US prison system
Before solitary: a young man's journey in the US prison system
Ed Pilkington in New York
@edpilkington
Monday 19 September 2016 12.42 EDT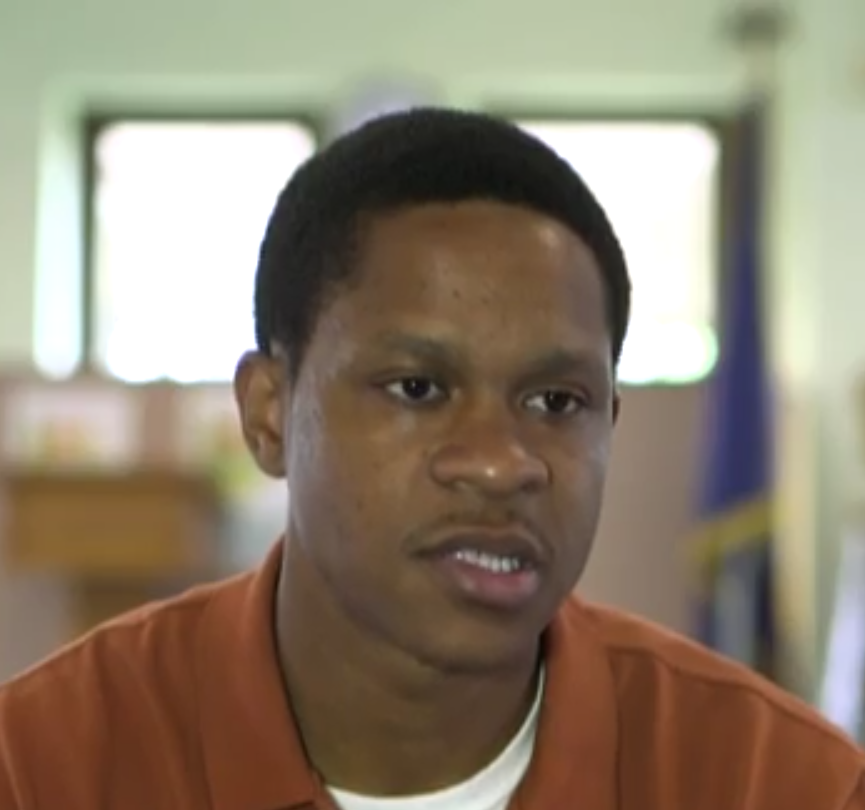 Tyreik Gilford spends his days in a 14ft by 9ft cell. When the Guardian asked him to describe his living space, it didn't take him long because there's really not that much to say about it.
There's a stainless steel bunk bed with two levels, a shower – with no door or curtain, so no privacy from the other inmate in the cell – and a toilet that sits 3ft from the face of the unlucky inhabitant of the lower bunk.
In the middle of the cell there is a neon light that is forever glowing. It remains on at night, though it does dim a little.
A table sticks out from one side of the cell with two retractable seats attached. The walls, floor and ceiling are concrete, a sea of dull grey.
You can barely see out. There are no bars on the door, which is made of solid steel.
Gilford has been housed in a number of types of solitary cell.
At the moment he's in a double cell where he's cooped up in a tiny space with another prisoner.
These are often among the worst conditions in which to be held in lockdown.
The space is even more limited than in single cells, the inmates are still kept behind a closed door for at least 22 hours a day, and given the high proportion of solitary prisoners who are struggling with mental illness, it can be harrowing. Sometimes it proves fatal.
"Every day when I sit in my cell I can hear other inmates yelling from they [sic] cell, politicking about this and that, all types of dumb stuff," Gilford wrote.
There's a hatch at the bottom of the door. It gives prison officers access so they can shackle Gilford's ankles on the rare occasions they let him out.
Another slot in the door is for food to be shoved through – 7am breakfast, 11.30am lunch, 4.30pm dinner. He can't see who's giving him the meals, just their disembodied fingertips.
The only view of the outside world is a 32ins by 15ins window at the back of the cell.
"I can see outside and the sky. Unfortunately, from the position of the window, I cannot see the sun rise, set, or the moon at night," Gilford said.
There's a door at the back of the cell through which he's allowed to pass to spend one or two hours a day in an outside space measuring 29ft by 8ft.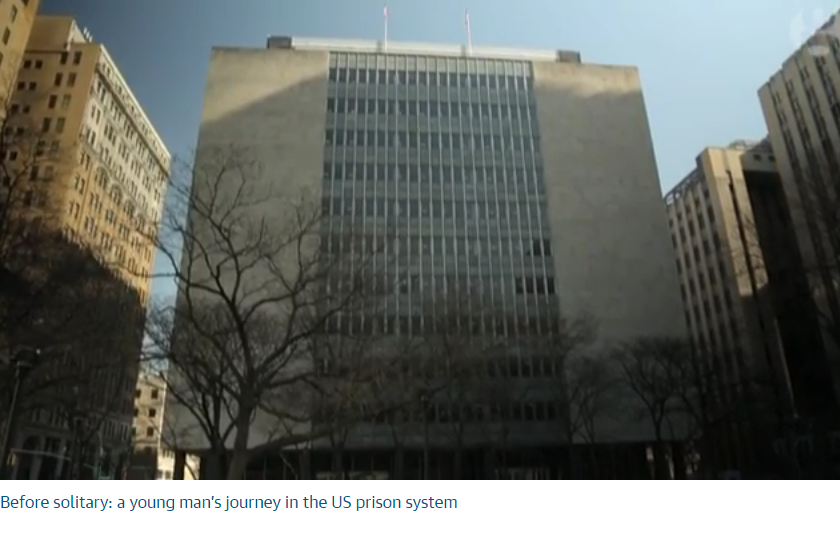 It's a cage, that's all it is, but at least the air feels fresh. They call it the recreation yard.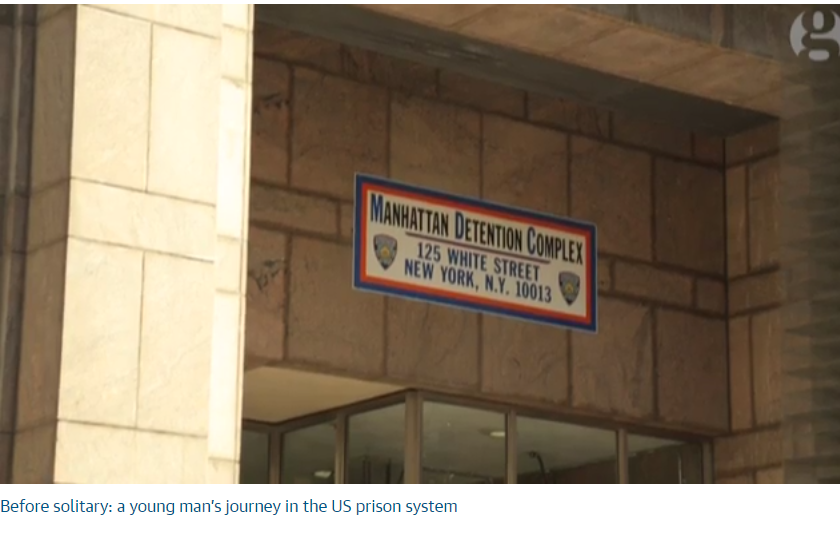 That's pretty much it. Gilford spends 22 hours of every day sitting in his cell, surrounded by steel and concrete. Concrete and steel. Trying to hold it together.
There's nothing exceptional about Gilford or his day-to-day existence.
He's one of as many as 100,000 men, women and children locked away in concrete boxes across the US, a country that puts people in solitary confinement at a rate virtually unparalleled.
The UN has denounced the type of conditions in which Gilford is currently held in the isolation wing of an upstate New York prison, saying they could amount to torture, and Barack Obama has described them as an "affront to our common humanity".
Gilford, 26, was sentenced last year to six years in prison for selling drugs, having been arrested by police in 2013 on the stairwell of his Harlem project building.
He says he is innocent and was mistakenly caught up in the search.
Last November, his troubles deepened. He was transferred from the general prison population to a "special housing unit", or SHU, at the Upstate Correctional Facility in Malone, after he was found with a small amount of marijuana.
In other words, he was put into solitary confinement.
The letter that Gilford wrote to Ed Pilkington from his cell
Photograph: The Guardian
Gilford sent a letter to the Guardian recently from his isolation cell. In it, he described the changes he could detect in himself as a result of being removed from ordinary human association.
"It's making me antisocial," he wrote. "And it affects my relationship with my love one. I'm not able to hear or speak with them, I'm only able to see them once a week, and even then I can't touch them like how I would like to."
Gilford is allowed weekly visits, but at the start of his time in the SHU he was chained outside the cell, and he can only talk to his family through a steel mesh.
Even that limited degree of contact is vitally important to him, helping him to deal with the well-established psychological trauma caused by being held in isolation.
"I do have trouble sleeping at night and I often feel depressed because of the situation I'm in.
When I don't hear from people that I love, I get upset. If I don't get a visit I get upset because being in that cell for so long makes me feel box in."
Tawanna Gilford
New York state has recently moved away from the addiction to solitary confinement that holds so many states across the country in its grip.
In response to a lawsuit brought by the New York Civil Liberties Union, a deal has been reached under which the state will rein in its use of isolation cells.
As part of the deal, solitary confinement has been banned for juvenile prisoners, a reform replicated this year by Obama across the federal prison system.
Several other reforms have been approved, including limiting the time people can be kept in SHUs and the provision of alternative punishment regimes.
Yvonne Gilford and her daughter Tawanna Gilford holding a photograph of Tyreik Gilford
Photograph: Laurence Mathieu-Leger for the Guardian
But the changes still have a way to go before they are implemented, and that leaves Gilford and 4,000 other New York state inmates grappling with the daily torment of being confined in isolation.
As is so often the case with solitary prisoners, he received a second three-month punishment while he was in the SHU that prolonged his lockdown for another 90 days.
He is scheduled to come out of the box in June, but the way things are he's fearful he'll get another extension. And so it goes on.
"I don't think it's a good thing to put inmates into lockdown," Gilford wrote in his letter.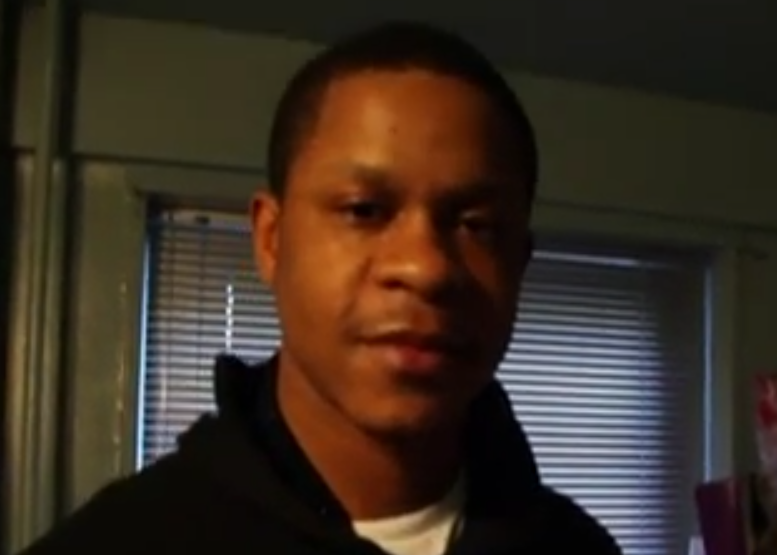 "For one, I don't think it makes the behavior better. Plus it's bad enough we already lock down, so to be in lockdown on top of being lock down is just too much."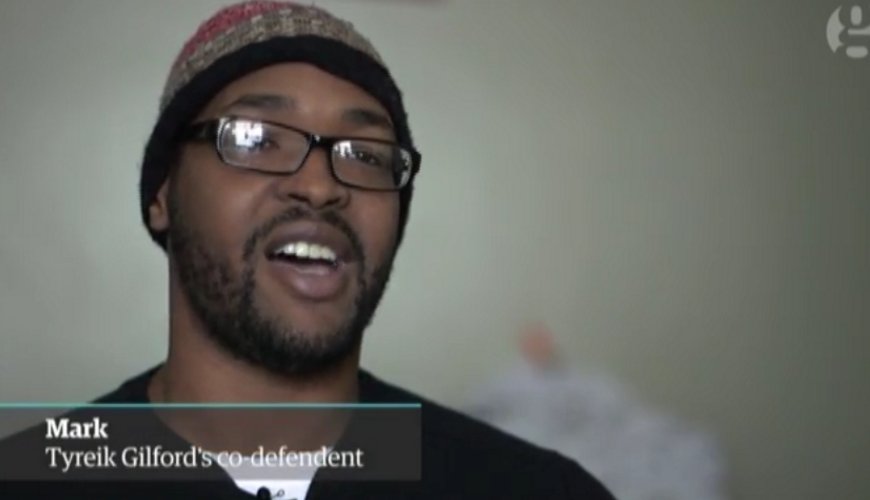 "WE WAR THROUGH POLICE!"
Tyreik Gilford's co defendant Mark said in reverse speech.
More features Topics
US prisons Human rights Civil liberties - international New York
VIDEO 5.05 AT
https://www.theguardian.com/world/2016/may/09/life-in-solitary-i-cant-see-the-sun-rise-or-the-moon-at-night