Silicon Valley investors call for California to secede from the US after Trump win
Hyperloop co-founder said he would fund 'Calexit' campaign for Democratic state to become its own nation as tech industry has been at odds with Trump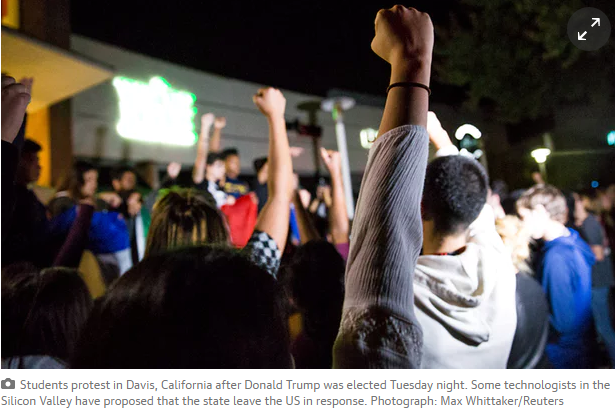 trump california protest
Students protest in Davis, California after Donald Trump was elected Tuesday night.
Photograph: Max Whittaker/Reuters
Olivia Solon in San Francisco
Some technologists in the Silicon Valley have proposed that the state leave the US in response.
Wednesday 9 November 2016 14.52 EST Last modified on Friday 11 November 2016 06.21 EST
As Donald Trump's shock election victory reverberated around Silicon Valley late on Tuesday night, some high-profile technologists were already calling for California to secede from the United States.
What now for progressives after Hillary Clinton's loss?
The broader west coast is a stronghold for the Democrats, and significantly more politically progressive and racially diverse than large swathes of central US.
California is also the biggest economy in the US and the sixth largest in the world with a gross state product of $2.496tn for 2015, according to the IMF.
The campaign for independence – variously dubbed Calexit, Califrexit and Caleavefornia – has been regarded as a fringe movement.
But support was revitalized by influential Uber investor and Hyperloop co-founder Shervin Pishevar, in a series of tweets announcing his plans to fund a "legitimate campaign for California to become its own nation" – posted even before the full results were in.
1/ If Trump wins I am announcing and funding a legitimate campaign for California to become its own nation.
7:21 PM - 8 Nov 2016
1,666 1,666 Retweets 3,215 3,215 likes
A few hours later, Hillary Clinton conceded the election to Trump, and Pishevar told CNBC that he was serious about Calexit.
"It's the most patriotic thing I can do," he said, adding that the resulting nation would be called New California.
Follow
Shervin ✔ @shervin
If you support an independent New California please RT. #newcalifornia
http://www.cnbc.com/2016/11/09/shervin-pishevar-wants-to-help-california-secede-from-the-us.html
…
2:16 AM - 9 Nov 2016
851 851 Retweets 523 523 likes
"We can re-enter the union after California becomes a nation. As the sixth largest economy in the world, the economic engine of the nation and provider of a large percentage of the federal budget, California carries a lot of weight," he said.
Pishevar was supported by others in Silicon Valley. Angel investor Jason Calacanis said that California succession would be simple in the wake of both Brexit and a Trump win.
Follow
jason ✔ @Jason
If Trump can win, & after the #brexit, California succession would be a layup. CA is increasingly more distinct from America. #calexit
9:20 AM - 9 Nov 2016
125 125 Retweets 418 418 likes
Evan Low, a Democrat serving in the California state assembly, said that he'd support the introduction of a bill to start the independence process.
Follow
Evan Low ✔ @Evan_Low
In the disastrous case that @realDonaldTrump is elected, I will explore intro of a bill to have CA secede from the union. #kiddingnotkidding pic.twitter.com/gRaIIZiGga
11:28 AM - 6 Nov 2016
66 66 Retweets 151 151 likes
Pishevar's comments add weight to the Yes California campaign, which launched in late 2015 calling to create a free, independent California Republic.
Led by political activist Louis Marinelli, Yes California proposes a 2019 referendum, following the model adopted by Catalonia to gain independence from Spain.
Follow
Yes California @YesCalifornia
They said Donald Trump wouldn't happen. They said #Brexit wouldn't happen. What're you going to say if they tell you #Calexit won't happen?
3:20 AM - 9 Nov 2016
2,082 2,082 Retweets 3,702 3,702 likes
The proposal illustrates the technology industry's frustration with Trump over his repeated criticisms of Silicon Valley companies.
The Republican leader wants Apple to stop making phones in China, thinks Jeff Bezos bought the Washington Post to exert political power and avoid paying taxes, and claimed that Mark Zuckerberg's push for specialist immigration would actually decrease opportunities for American women and minorities.
Over the summer, 100 tech leaders signed an open letter warning that Trump would be "a disaster for innovation" and many others, including Bezos, have spoken out about his behaviour.
Trump's lone public supporter in Silicon Valley was Facebook board member and PayPal billionaire Peter Thiel, and even he acknowledged that the country faced an enormous challenge.
"We're going to need all hands on deck," he said in a statement to USA Today. "He has an awesomely difficult task, since it is long past time for us to face up to our country's problems."
Since you're here ...
…we have a small favour to ask. More people are reading the Guardian than ever but far fewer are paying for it.
And advertising revenues across the media are falling fast. So you can see why we need to ask for your help. The Guardian's independent, investigative journalism takes a lot of time, money and hard work to produce.
But we do it because we believe our perspective matters – because it might well be your perspective, too.
Fund our journalism and together we can keep the world informed.
Become a Supporter
Make a contribution
https://www.theguardian.com/technology/2016/nov/09/trump-win-california-secede-calexit-silicon-valley