Viral Video Shows Crystal Clear UFOs Over Pyramids
March 19, 2017 LUFOS daytime UFO, Latest posts, UFO videos 3
giza-ufos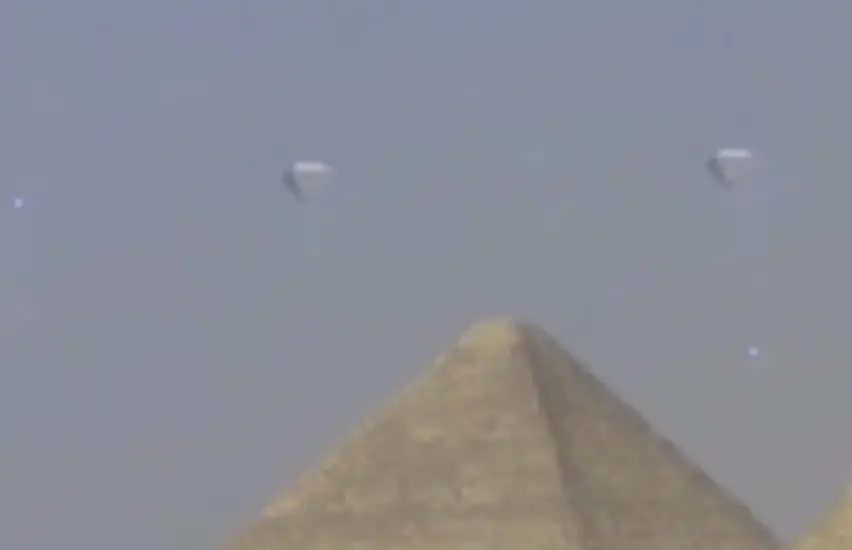 An amazing video of seemingly showing three crystal clear UFOs floating above ancient pyramids of Giza has made the rounds online. Uploaded to YouTube, the footage shows a crowd of tourists enjoying the incredible sight of the ancient world while the three strange, triangular aerial things hover above.
The footage can be considered as one of the clearest UFO sightings ever recorded on video.
Most UFO sighting recordings are either blurred or too shaky.
However, Youtube poster give any additional details about the video, but the description of the video states that it was recorded in April 2016 and the UFOs remained visible for four hours.
Section 51 2 website features the alleged UFO sighting video, but no further reference provided. It instead discusses the alleged ancient document Tulli Papyrus, which reveals that flying saucers, depicted as circles of fire, appeared above pyramids in around 1500 BC.
The article also touches the ancient astronaut conspiracy theory, which claims that our ancestors built the pyramids with the help of an advanced race of aliens thousands of years ago.
However, many viewers believe that the video is a deliberate hoax created using CGI technology.
Critics say that if this thing actually happened, then it would likely be the news for mainstream media all over the world and not only to one website.
Your opinion?
Fake (44)
Real (2)
Not Alien (0)
What Others Are Reading Right Now:
california-ufoAMAZING strange object hovering above Concord, California 15-Jul-2016 westfield-ufoNew York: UFO discovered when downloaded trip photos michigan-ufoBright orb flying over Southfield, Michigan 24-Jun-2016 turkey-ufo UFO Tails A Helicopter With Top Turkish General On Board
2016
ASIA
EGYPT
danish-ufo
PREVIOUS
Watch Viral Video Of Diamond UFO Hovering Over Sea
michigan-ufo
NEXT
Several UFOs Videotaped Above Ypsilanti, Michigan
3 COMMENTS
Kurta Sandor Iozsef
MARCH 19, 2017 AT 11:58 AM
Thats a cool video, if it-s true ! Thanks.
REPLY
tim tempest
MARCH 19, 2017 AT 8:47 PM
This is the second time this week you shared section51 fake ufo videos..Ive been following for years & now you start with this this? If it happens again Im unfollowing & stopping defending you
REPLY
Amy Blatt
MARCH 19, 2017 AT 11:03 PM
Yeah 4 hours and nobody attempted to get closer or show around the world?
Nobody excited.And what the heck are those noises. Camels with the hump?
Patrick Sullivan
MARCH 20, 2017 AT 9:39 AM
Might we understand that our extraterrestriall family is here all the time and they have been here all the time?
That our planet has been mined with nuclear weapons. Have we given much thought to who mined it?
Maybe we might figure it was the pyramid guys that set us to die in a nuclear blast war first and failing in that due to the intervention by our extraterrestrial family to save us, the pyramid guys are now dying us with their second deadliest technology of genocide, nuclear waste?
The pyramids floating in the air over the pyramids. A meta-transiliatory communication from our extraterrestrial family to us. What might our elders from the universe be saying to us?
With pyramid guys using the white purse and fist of America to make war might it have something to do with our massive die off due to the pyramid guys and gals pushing their nuclear brimstone waste war genocide?
VIDEO 4.11 AT
http://www.latest-ufo-sightings.net/2017/03/viral-video-shows-crystal-clear-ufos-pyramids.html
Several UFOs Videotaped Above Ypsilanti, Michigan
March 20, 2017 LUFOS Latest posts, N. America, UFO videos 0
michigan-ufo
An amazing cluster of strange lights was spotted flying towards a local body of water. Two observers reportedly sighted the unusual event in the nighttime sky and observed it for around one hour.
One witness sent photos and a video to NUFORC, which described them to be high quality.
Anyone who saw the same objects in the NUFORC website is encouraged to submit a written report using the Online Report Form.
According to the reporting witness, the UFOs appeared to be barbell-shaped.
Some viewers of the video thought they were planes at first but doubted with their formation if they were indeed planes. One comment says that if they are not planes then, they are unidentified.
Commenter tall32guy said, "Bizarre, a bit spooky to me, indeed."
VIDEO 0.38 AT
http://www.latest-ufo-sightings.net/2017/03/several-ufos-videotaped-ypsilanti-michigan.html