UFO photographed over Las Vegas, Nevada on April 4, 2017
Las Vegas — We stayed at the Red Rock Casino outside of Vegas on March 31st thru April 4, 2017. On the morning of April 1st at 7AM, I was getting ready to go golfing. Since I was up and ready to go before my family I looked out the window to admire the mountain views. I took three pictures with my cell phone. I did not see anything out of the ordinary. We were on the 16th floor of the hotel, facing the mountains.
After returning home from our trip I checked out some of the pictures on my cell phone and noticed that one picture taken from my room had a round disc that looked as if it was moving fast. I went to the store and had pictures made. The object was unbelievable. I had a larger blow up made and could not believe that this was on the picture.
After showing several friends the picture all of them immediately said what is that a UFO. The other two pictures did not show anything. Thanks to MUFON CMS
Idaho UFOs near Air Base
U.S. Air Force Air Traffic Control Certification and Federal Aviation Administration Certification
Mountain Home Air Force Base — I was an air traffic controller at Mountain Home (AFB) from 1973 through 1976 and saw numerous UFO's, but knew it was a waste to report them. I had no desire to go to the base hospital and enter into a conversation as to whether I loved my mother. In addition, casual conversation with pilots of the F-111 Tactical Fighter Bombers there indicated they too had witnessed the same, but didn't want an official inquiry into their sanity.
Additional Comment from Witness: I have experienced a lot of skepticism in the past.
Note: The witness identified with a previously reported sighting of a UFO that was hovering over the runway at Mountain Home AFB in 1977. The veteran provided documentation that he was an air traffic controller for the Air Force at Mountain Home AFB.
(Note that the date on the certificate is Sep 18, 1973. This provides good evidence that he was stationed at Mountain AFB in the time period noted on his report.) The document lists his certification as a controller. The second document provides his FAA certification and shows that he was at Mountain Home AFB. Thanks to William Puckett, Director
Http://www.UFOsnw.com
Florida Lights
Pinellas Park — I was just simply taking a picture of a plane on April 1, 2017. It was passing over head and I noticed an object when I viewed the photo in the upper left with the plane at the lower right. Thanks to MUFON CMS
Illinois Boomerang
Brookfield — I was returning home at around 4:15 am, from getting some coffee. I got out of my car in my driveway, and saw a bright, pulsing, white light, in the sky on April 1, 2017. I went inside and got my infrared binoculars and filmed it. I couldn't really see what it was until I went frame by frame. While reviewing the video, it shape shifted from a triangle, a sphere, a disc, and other shapes. Also, when looking at the video, for a few minutes, I saw another pulsating, white light, further south. Thanks to MUFON CMS
Indiana Lights
Vincennes — I was driving home southbound on U.S. 41 between Vincennes and Decker, as I started to pull onto Airport road I noticed a bright white light, low in the northwestern sky on April 7, 2017. At first I thought it was a star or planet, but realized I never noticed it before, so I pulled over to watch it for a few seconds. It appeared to be moving slowly in my direction, so I decided to head up the road to my house. I pulled into my driveway, and went inside the house to alert my mother about what I was seeing.
I went back outside and my mother came outside as the object got steadily closer. As it got almost directly overhead I could see three white lights in a triangular shape, with a red blinking light towards the rear. I also noticed white lights around the middle of the object, appearing to be windows. I listened
As it was passing by, I did hear a slight jet like sound. It was flying between 200 and 300 miles per hour.
This did not appear to be anything conventional. I have seen the F117 once, the B2 twice at my house, F16s, F18s, and F22s, so I have plenty of knowledge and experience with aircraft. Terre Haute is also home to the Indiana Air National Guard, The northwest to southeast flight path of this event was a bit odd. Thanks to MUFON CMS
Louisiana Object
Boyce — Walked out on deck to take picture of lake on April 1, 2017. Uploaded picture to Facebook and noticed a wooden cross in sky on picture Went back to take a look and it was gone. I see it in the picture and know it was there. I think while I was taking picture I remember seeing at a quick glance, some birds. I am not totally sure of this. Thanks to MUFON CMS
Michigan Light
Kalamazoo — While my son and I were getting the telescope ready on March n31, 2017, I felt the need to hurry up and get out there. When we walked outside there was a very large and bright "star" very close to our home. I grabbed the iPod and started to take pictures. It stayed for a few hours, I went back out at midnight and it was gone. Thanks to MUFON CMS
Brazil Aircraft and UFO
Brasilia DC — Object was photographed from a hotel room in the city on December 31, 2015. The object is at the bottom right of the photograph. I only noticed the object after unloading the memory card on the PC two days later.
Thanks to MUFON CMS
Filer's Files #15 -2017 Cydonia Earth-Mars Connection
http://nationalufocenter.com/2017/04/filers-files-15-2017-cydonia-earth-mars-connection/
Shape-Shifting Orbs Hover Above Auckland
April 11, 2017 LUFOS Aus and Oc, Latest posts, UFO videos 0
Auckland-ufo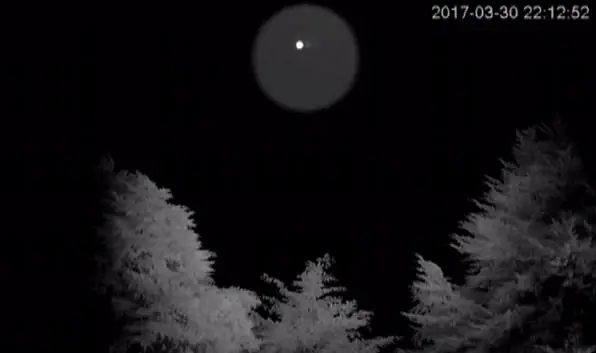 A couple has released a clip showing a strange object that they suspected a UFO. Auckland couple Lance and Patricia Rasmussen said they have been observing coloured orbs flying in the sky for the past year at their home in Manukau Heads.
They said the objects' descriptions do not fit any terrestrial origins, such as drones or planes.
Security cameras captured a video of a circular object hovering in the sky metres away from the couple's home.
For several seconds, the object darts in various directions, before flying upwards in tremendous speed and off the camera's view.
Mrs Rasmussen said that they had taken hundreds of pictures showing different objects hovering metres away over their roof.
Mr Rasmussen shared that these mysterious objects have the size three times of a CD and have the ability to change shapes. He added that they also stay up for more than two or three hours while changing colours right in front of their eyes, according to Mr Rasmussen.
The couple is not sure whether these objects mean any harm or anything like it. They also filed a report to the Civil Aviation Authority about the strange incidents they have been encountering. However, the CAA spokesperson said that they always tell people who reported UFOs that if there was something untoward, then they expect it to be airways or pilots have something to do with it.
VIDEO 0.12 AT
http://www.latest-ufo-sightings.net/2017/04/shape-shifting-orbs-hover-auckland.html
Invisible UFOs filmed over Las Vegas, Nevada 24-Mar-2017
March 27, 2017 LUFOS Latest posts, N. America, UFO videos 0
Nevada-UFOs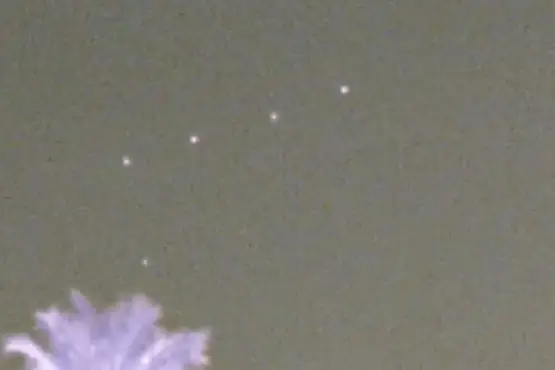 Here's one new footage of a bunch of unidentified flying objects that were filmed with night vision camera over Las Vegas this Friday.
Witness report: I shot this video from my backyard in the Summerlin area of Las Vegas, Nevada on the night of March 24, 2017.
Wow! You never know what's going to happen when you step outside and start skywatching. That is what makes this hobby so exciting! Tonight was a night that any UFO Hunter could ever hope for.
It began almost immediately. I actually have more video from a completely different event as well. I felt it was important to get this out as quickly as possible because not only did I film some incredible UFOs, but this time I know where they landed.
I also know that they truly are invisible because they ended their flight at Nellis AFB where I should have been able to see them approaching the base. I could not… I couldn't see the flashing and blinking objects with the naked eye either. An amazing show is happening above us and nobody even sees it.
Lastly, there were no scheduled operations happening on the Nellis AFB website yet I have seen and heard more military helicopters flying over my part of town over and over again for more than a week now.
I also saw a helicopter on the southern end of the Blue Diamond Hills hovering and going back and forth for well over a half-hour. Ironically it was where the triangle UFO was that I filmed and had drawings of not too long ago.
It was also the same vicinity my friends and I were when we caught video of a UFO high in the Spring Mountains. I don't know if anything is happening but it all seems pretty intense. Definitely not normal or ordinary.
Author (Steven Barone @ Youtube)
1 COMMENT
Patrick Sullivan
MARCH 27, 2017 AT 10:08 PM
Your comment is awaiting moderation.
Can we only wonder what is going on at Nellis AFB? Might these invisible UFOs be a "MARKING" by our extraterrestrial family to clue us to the weap sport that is coming inside America this April?
Will Labor not take the concession to issue our money away from the bankers and put it into the hands of Labor? Thank you.
REPLY
VIDEO 19.19 AT
http://www.latest-ufo-sightings.net/2017/03/invisible-ufos-filmed-las-vegas-nevada-24-mar-2017.html
Florida Air Show with UFO
Jacksonville — I took this video of an extremely large photo on the wall of a hotel. The photo shows jets over the beach on July 2, 2050.
I can tell you the location of the hotel/photo if helpful.
There's a large object in the sky near the jets in the sky if it's not an anomaly in the photo. Reported 67 Years Later. Thanks to MUFON CMS
UFO Sightings in the United States
Arizona Disc
Elephant Mountain — I was checking out Elephant Mountain when a blip caught my attention. A week ago the same camera, pictured another object on March 3, 2017. It was almost identical to this but it hovered in location for 2 to 3 minutes.
I went back to copy the picture, but the Webcam had already refreshed hours into the next day. This picture was an accident in finding it. I was going through live weather cameras checking out areas around Flagstaff.
I wish I could have screen shot the one last week as it was huge triangle just hovering for a little over two minutes. Note: The object appears boomerang shaped in the original webcam photo. Enlargement reveals an oval shape. The object could be a bird. The photo resolution of the screen shot of the webcam was low (960 by 554 pixels) so enlargement may not reveal much detail. Correction this report is from William Puckett, Director
Http://www.UFOsnw.com
California Object
Concord — During a trip back to my birth land of California on June 23, 2013, I took a few pictures while a passenger driving with my elder brother.
I've kept these photos and have only shared them with a few close friends and families who are all astonished. So after much vacillating I now share it all with you. We were traveling eastbound on California Highway 4, and were just taking a few random shots out the car window.
I had just taken a picture of the Concord Naval Weapons Station bunkers which can be seen right off Highway 4 between Concord and Pittsburg. Using my old iPhone 4, I wanted a picture of the old "Mothball Fleet"(US Navy National Defense Reserve Fleet) in Suisun Bay. Later that evening, I reviewed the pictures on my phone and was stunned to see two apparently flying objects in my image.
I did not see it, but it appears to be the backside of some type of Lockheed SR Type Aircraft with exhaust signature? My elder brother agrees. Travis US Air Force Base lies 22 miles NE of the place where I took the picture. Snip Thanks to MUFON CMS
Florida Lights
Vero Beach — I was shooting still photography at a carnival, a few miles west of the Atlantic Ocean. I captured two images that show unusual lights behind the foreground carnival equipment which was the actual target I was aiming at. The lights do not appear to be a camera related issue, such as dirt, reflection, and lens or sensor aberration. A close inspection of the photo that shows "Rockstar" on the carnival ride shows the lights in a different position than they do in the subsequent photo, where the ride's position has changed and you can see the lights just beneath the "left arm" of the ride, not far from the center support structure on March 18, 2017.
The camera used is a Sony A6000. Thanks to MUFON CMS
http://nationalufocenter.com/2017/03/filers-files-13-2017-admiral-fahrney-intellience-directs-ufos/
PS POST
Glowing UFOs over Nevada: Are These Mystery Craft......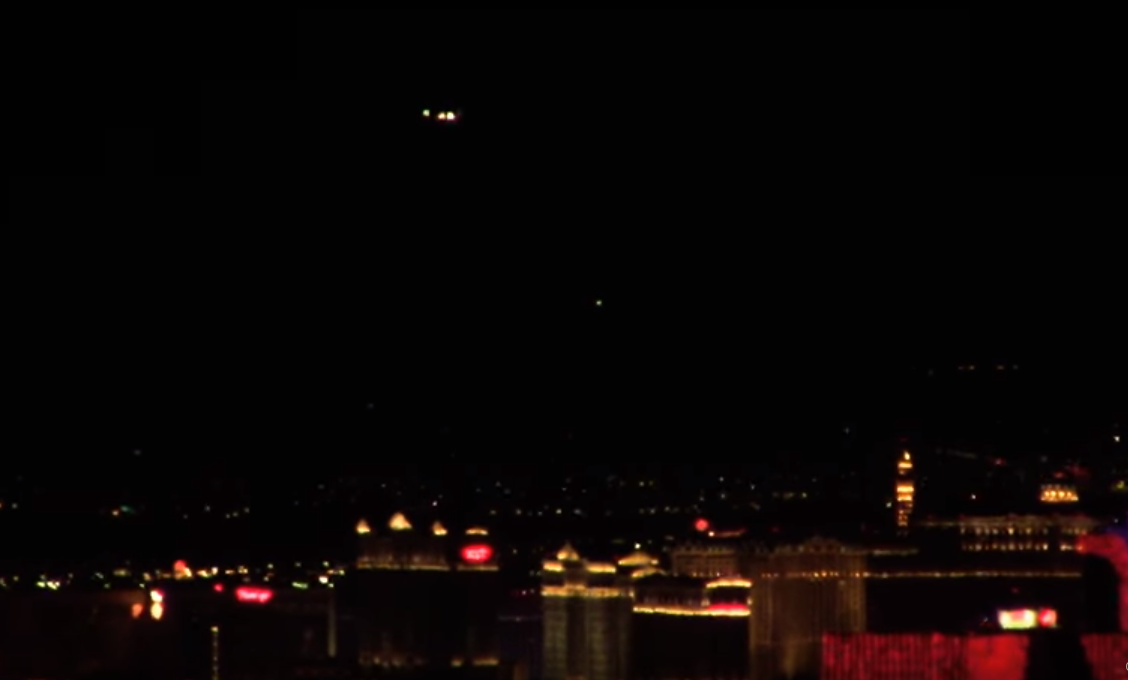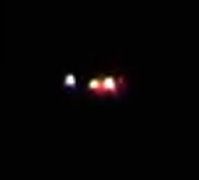 Sat Jun 11, 2016 22:04
VIDEO 16.41 LINK AND ANALYSIS AT
http://disc.yourwebapps.com/discussion.cgi?disc=149495;article=156243
;
UFO PREVENTS NUCLEAR SHOTS
The picture above of two great fireballs in the sky is from Vera Beach, Florida of a CE-5 event. That is where the viewers had been visiting with our extraterrestrial elders from space and agreed ahead of time to meet there.
12 hours ago December 29, 2013 3:26PM
A GIANT 'ball of fire' which shot across the night sky in Iowa in the US Midwest has been captured in incredible security footage.
Kosher meteor captured flashing across night sky in Iowa
UFO Fireball Comet Meteor over IOWA close up
VIDEO 1.10
https://www.youtube.com/watch?v=paa6fwsh4lg
This next is the great ball of fire that was burst off before reaching Chelyabinsk.
Might we wonder who has such technical capability to approach from behind and shoot a rod right through the great ball of fire?
The flash of the exploding nuclear warhead of an air-to-air rocket is shown as a bright sun in the eastern sky at 7:30 a.m. July 19, 1957 at Indian Springs Air Force Base, some 30 miles away from the point of detonation. A Scorpion, sister ship of the launching aircraft, is in the foreground.
(National Nuclear Security Administration / Nevada Site Office)
The picture to the right is of the fireball that exploded over Chelyabinsk, February 15, 2013.
To the farthest right is the fireball over Argentina 4-21-2013
NUCLEAR WARHEAD IN A CONTROLLED BURN OFF BY SIR CASPER OUR MARTIAN NEIGHBOR AND GOOD FRIEND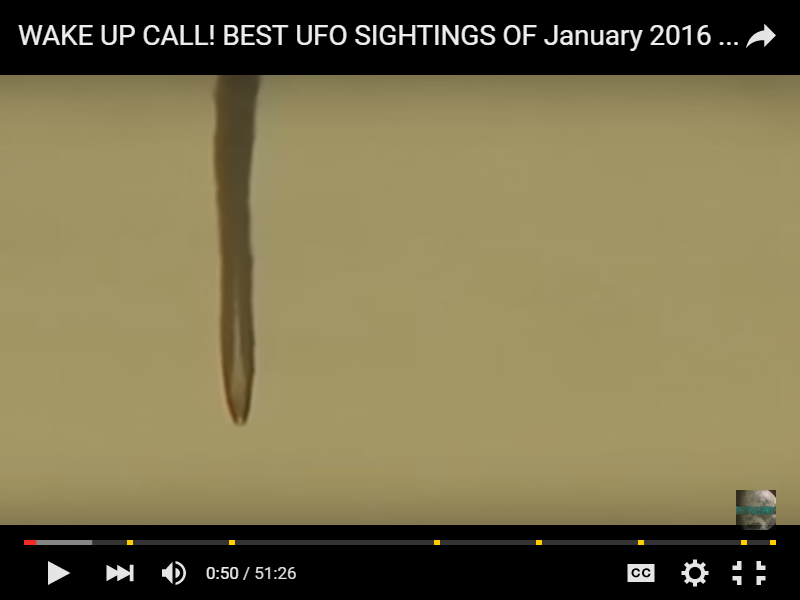 CONTROL BALLS HOLDING WARHEAD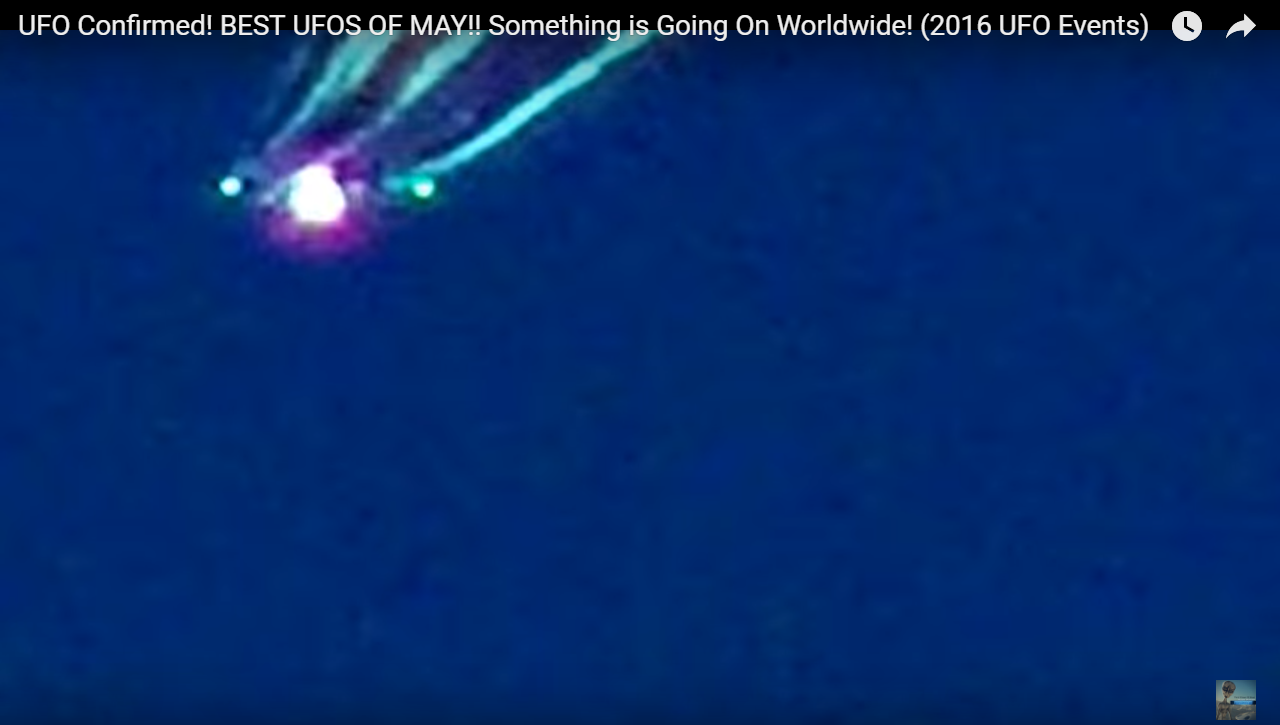 SMOKE DONUT ON MISSILE LAUNCH
Details at:
http://bitchworld.weebly.com/ufo-prevent-nuclear-shots