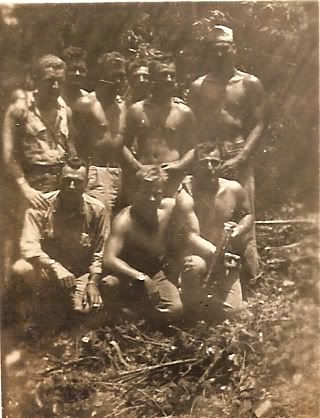 Jon,
Frank Johnston identified himself and several others in this photo. I think you may remember it from a post of mine some years back. Below is his recolection.
These are some of the H&S 2 Regimental Communicators on Saipan. 1st row (kneeling) L. to R., Smitty, Weisbrod,and Maynard. Standing L.to R.: Walter F. Joyce, Ernest Minton, Davenport behind Minton, and then the far right Frank Johnston.
Frank also seemed to remember that this might be the last photo of the Marine with his hand on my dad's shoulder (Minton?), as he was a friendly fire casualty the next day.