http://nymag.com/daily/intelligencer/2018/09/trump-attacks-ford-for-not-going-to-cops-in-1982.html
Even as his staff was telling reporters how hard they had worked — with apparent success — to keep the Boss from disrespecting Christine Blasey Ford, Trump cut loose with this tweet:

Donald J. Trump
✔
@realDonaldTrump
I have no doubt that, if the attack on Dr. Ford was as bad as she says, charges would have been immediately filed with local Law Enforcement Authorities by either her or her loving parents. I ask that she bring those filings forward so that we can learn date, time, and place!
9:14 AM - Sep 21, 2018
Chances are that even if Dr. Ford or her loving parents had attempted to file charges, the Law Enforcement Authorities would have filled out the necessary forms, discovered that Kavanaugh was a good Catholic son of wealthy attorneys and his mother was a judge, and filed the reports in the circular file and told Dr. Ford and her parents that there was not enough evidence to bring charges and that Dr. Ford probably wanted it anyways.

Apparently the culture in Georgetown Prep et al was such that such incidents were not uncommon.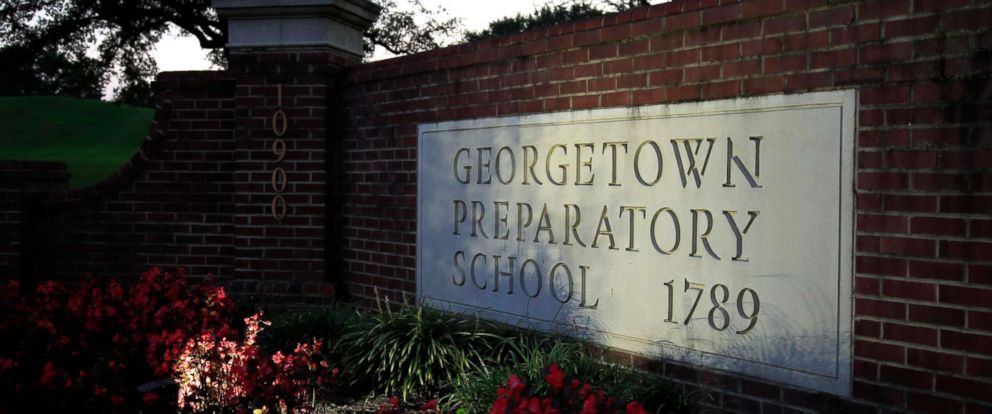 AREA HEADMASTERS WARN PARENTS OF STUDENT PARTIES
The letter said, "It would be hard to devise a better recipe for disaster than a social scene that includes the anonymity provided by an 'open party,' no adult supervision, considerable amounts of alcohol, and teenage hormones which encourage sexual or violent behavior."
The two-page letter was signed by the headmasters from Georgetown Preparatory, Landon, Gonzaga College High, National Cathedral, Holton-Arms, St. Albans and Sidwell Friends schools.
"Over the past few years, we've seen an increase in the sort of large, open parties which are not held at school, and involved students from a number of schools," said St. Albans Headmaster Mark H. Mullin. "Most of us have a pretty good feel for the generalities of what goes on over the weekend."
Read more:
https://www.washingtonpost.com/archive/local/1990/02/04/area-headmasters-warn-parents-of-student-parties/06927fdb-a9fb-4a1c-89bb-8b004e21825e/?noredirect=on&utm_term=.881d1b0e6ce6
This is why, partisan political considerations aside, it is crucial that the FBI do an in depth investigation of this prep school milieu.