https://www.nytimes.com/2019/01/27/us/politics/trump-russia-sanctions-deripaska.html
Treasury Dept. Lifts Sanctions on Russian Oligarch's Companies
By Kenneth P. Vogel
Jan. 27, 2019
The Trump administration on Sunday lifted sanctions against the business empire of Oleg V. Deripaska, one of Russia's most influential oligarchs.
Congressional Democrats had tried to block the move this month, assailing it as a capitulation to the Kremlin and a key ally of President Vladimir V. Putin. But they failed to win enough Republican support to enforce the sanctions.
The Treasury Department had announced the sanctions against Mr. Deripaska, six other oligarchs and their companies in April as retaliation for Russia's "malign activity" around the world.
Most of the sanctions went into effect, including against Mr. Deripaska personally. But their implementation was repeatedly delayed against Mr. Deripaska's giant aluminum company, Rusal, as well as two linked firms, including EN+, the holding company that owned much of Rusal. The companies financed a sophisticated legal and lobbying campaign arguing that the sanctions would disrupt the aluminum market and damage companies in the United States and allied countries.
Steven Mnuchin, the Treasury secretary, was sensitive to that argument. He clarified that the goal of the sanctions was "to change the behavior" of Mr. Deripaska, and "not to put Rusal out of business," given the company's pivotal role as a global supplier of aluminum.
The Treasury Department announced a deal last month to lift the sanctions in exchange for a restructuring that it said would reduce Mr. Deripaska's control and ownership of the companies.
Yet a confidential, legally binding document detailing the agreement showed that Mr. Deripaska and his allies would retain majority ownership of EN+.
Representative Lloyd Doggett, a Texas Democrat who has been among the leading critics of the deal, said that allowing it to take effect "represents just one more step in undermining the sanctions law, which President Trump has obstructed at every opportunity, while Russian aggression remains unabated."
But EN+ said in a statement that Sunday's move was "a victory for the U.S. sanctions policy, successfully punishing the target but not at the expense of shareholders, employees and the wider market."
After the sanctions were officially lifted, EN+ announced the appointment of seven new directors under the deal, including Christopher Bancroft Burnham, a banker who served on Mr. Trump's State Department transition team and worked in George W. Bush's State Department.
===================================================
https://www.theguardian.com/world/2019/jan/27/us-lifts-sanctions-oleg-deripaska-russia
Trump lifts sanctions on firms linked to Russian oligarch Oleg Deripaska
Democrats in Congress opposed move to lift restrictions
Deripaska is ally of Russian president Vladimir Putin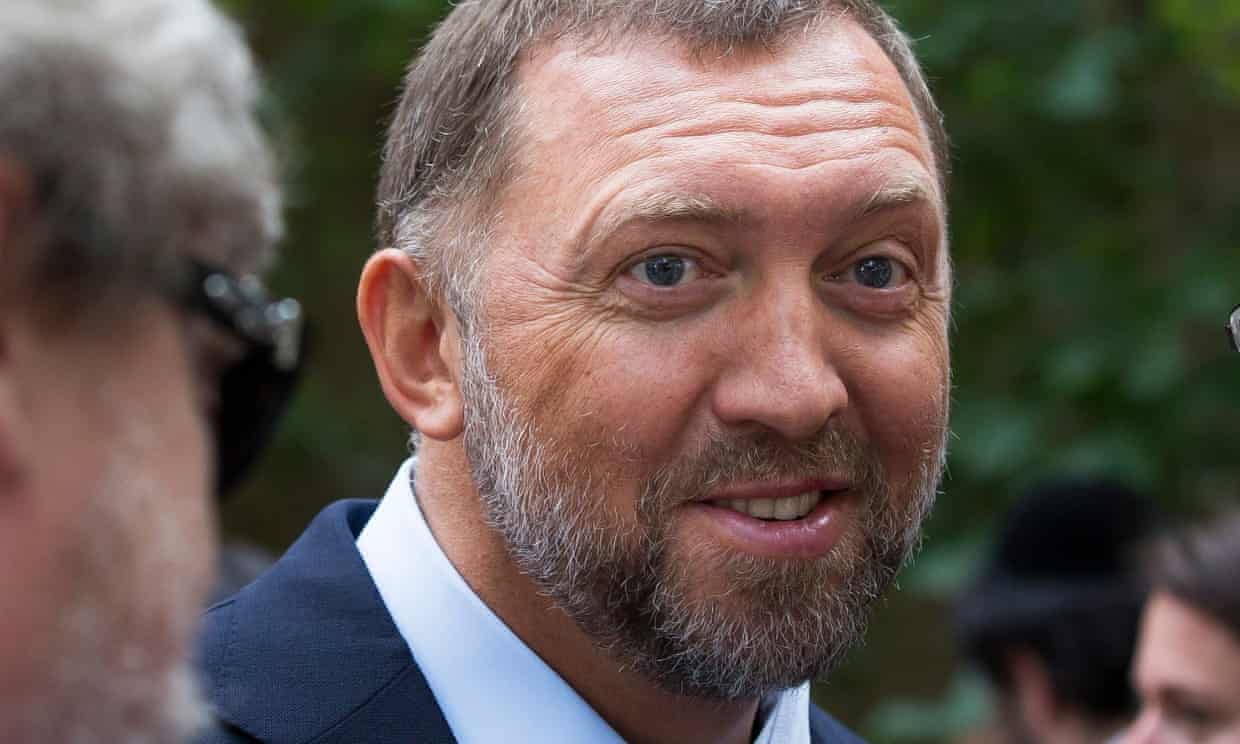 The Trump administration has lifted sanctions on three companies, including the aluminum giant Rusal, linked to Russian oligarch Oleg Deripaska. Democrats had led a push in Congress to continue the restrictions.
Earlier this month, Senate Republicans blocked an effort to keep the sanctions on Rusal, En+ Group and JSC EuroSibEnergo.
Some lawmakers from both parties have said it is inappropriate to ease sanctions on companies tied to Deripaska, an ally of Russian president Vladimir Putin, while special counsel Robert Mueller investigates whether Trump's 2016 presidential campaign colluded with Moscow.
Deripaska had ties with Paul Manafort, Trump's former campaign manager. Manafort pleaded guilty in September 2018 to attempted witness tampering and conspiring against the United States.
Trump administration officials and many Republicans who opposed the effort to keep the sanctions in place said they worried about the impact on the global aluminum industry.
They also said Deripaska had lowered his stakes in the companies so he no longer controlled them, a sign the sanctions were working.
In its statement on Sunday, the US treasury said the three companies had reduced Deripaska's direct and indirect shareholding stake and severed his control.
That action, it said, ensured that most directors on the En+ and Rusal boards would be independent directors, including Americans and Europeans, who had no business, professional or family ties to Deripaska or any other person designated for sanctions by the Treasury department.
"The companies have also agreed to unprecedented transparency for Treasury into their operations by undertaking extensive, ongoing auditing, certification, and reporting requirements," the department's statement said. Deripaska himself remained subject to US sanctions.
After the Treasury announcement, Rusal said Jean-Pierre Thomas had resigned as chairman and director of the company as part of the deal to lift the sanctions. Shares in Rusal jumped more than 5% in early trading in Hong Kong on Monday.
Rusal is the world's largest aluminum producer outside China. The sanctions on the company spurred demand for Chinese metal. China's aluminum exports jumped to a record high in 2018.