I am a bit of a timepeace freak, and JuJu & I have a fairly significant collection of Tiffany, Cartier, Baume & Mercier, Tudor, Omega, Audemars Piguet, Citizen, Invicta, Longines, Mickey Mouse, Mr Jones, Nike, Peugeot, Rado, Pusser, Raymond Weil, TechnoMarine, Wenger Swiss Army, Android, August Steiner, B. H. Steiff - Nashville, Benrus, Breil, Brooks Brothers, Bulova, Casio, Croton, Alfred Dunhill (CityScape), Elgin, Glycine, J G Graves - Sheffield, Joshua & Sons, Kenneth Cole, Locman, Mercedes Benz, Oakley 'Gearbox', Orvis, Rolex, Stuhrling, Shhors, Sweda, Tag Heuer, Tourneau, and Victorinox watches.
These came from all over, from Seattle, to San Francisco, to Las Vegas, to Chicago, to Cleveland, to Annapolis, to Atlanta, to NYC, to Bermuda and points beyond over the past 50 or so years, with a few mail order additions from eBay and other online sources. We almost never pay retail, and it is amazing how willing snooty stores like Cartier, Dunhill, Tiffany, Saks Fifth Avenue, and other NY, Chicago and San Francisco boutique shops are to bargain in the backroom. We also like store closings and discontinued blowouts.
Among my favorites are 3 Bulova Accutron watches with the vibrating tuning fork that plays a frequency about half way between F
4
and F
4
#, or 360 Hz … hence the accuracy … 10 oscillations per second.
One is called the "SpaceView" edition, which is a skeleton version that shows the tuning fork, copper windings, diodes, resistors, gears, etc. Two of them keep very good time. The third one needs a good professional cleaning and refurb to get it back to snuff.
Accutron 'Spaceview':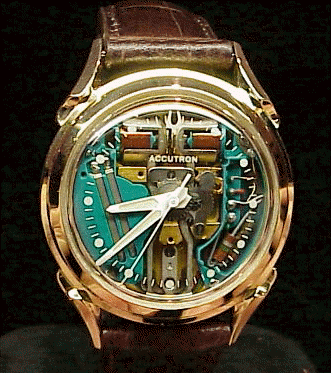 Regular Accutron:
Other favorites are the Cartier 'Santos Galbée' in stainless steel with the gold faceplate and screws in the band, the Dunhill 'CityScape', and the Tiffany Atlas with Roman Numerals.
Cartier Santos Galbée (Mens/Ladies)
Dunhill 'CityScape":
Tiffany 'Atlas' (mens & ladies identical, only different in size)
Of all the watches we own, the Rolex is the least favorite … overpriced hype. Bought it in Bermuda back when duty-less shopping made a big difference in affordability. It is a self-winder, and the mainspring is broken. Rolex does not stand behind their merchandise very well … they wanted about $1K to fix it. A local Horologist quoted $300. Naah! Ain't worth that much to me.
About 1/4 of our watches are mechanical wind-ups, another 1/3 are automatic self-winders, and the rest are quartz or other electronics.
Then we have 34 clocks, including a 78" Grandfather, a bunch of Seth Thomas mini brass quartz clocks, a bunch of miscellaneous clocks, and 2 Tiffany brass wind-em-up carriage clocks. The Grandfather has St Michael, Westminster, and Whittington chimes.
St Michael Chime:
https://www.youtube.com/watch?v=TiEePwvwPkA
Westminster Chime:
https://www.youtube.com/watch?v=TiEePwvwPkA
Whittington Chime:
https://www.youtube.com/watch?v=X_qsxI3PF8o
The pendulum has a fine adjustment screw which raises and lowers the pendulum to adjust its time-keeping accuracy. I have the clock fine-tuned to within about 3 seconds a week. When I wind the pendulum weight, the pendulum temporarily slows down, so after the weight is wound back up, I swing the pendulum rapidly back and forth to catch back up to my time on my cell phone. I have had this clock since 1988, and I clean and oil the mechanism about every 5 years.
I spend about a day every other year replacing batteries and resetting time in the quartz watches and clocks. I order the Maxell/Sony/Energizer/Duracell/Renata silver oxide or lithium batteries from CR Time Company or on eBay or 1111deals.com, whoever has the best price. Batteries on the net typically cost $0.29 to $1, far less than a grocery or drug store.
The Day/Date watches are a pain in the butt because after a month or two, the date is off. Same with MoonPhase watches. You can really screw up a day/date and/or moonphase (termed 'complications') watch by winding it the wrong way … if you wind backward past midnight, it can damage the day/date/moonphase advancing mechanism. The proper way to set the date on a watch is:
1. Pull the stem out to the last détente and wind the watch forward until the date changes, then go around 18 hours to 6PM.
2. Pull out the stem to the first détente, and wind the day and/or date forward to yesterday.
3. Pull out the stem to the last détente, and wind the watch forward until the day/date changes to today, then wind forward to the correct AM or PM time.
4. If the watch has a second hand, pull out the stem to stop movement, set the minute hand to the next upcoming minute, then, using your cell phone, push in the stem at the exact moment the cell phone ticks up the next start of a minute.
For a moonphase watch, read the user manual … they're all different.
Never wind a watch backwards.
I had 3 Breitling Super Ocean Professionals, but I gave them to my kids. They are good to a depth of 5000 feet, if you care to go that deep (and die). They even have a pressure relief valve to vent hydrogen/helium buildup in the case after a deep dive so the crystal doesn't blow off. These beauties cost about $1200 each at KenJo on 57th in NYC and Ross Simon in Atlanta back in the late 90s. They were discontinued in 2002. Now, if you find a used one in excellent condition, it will cost about $4500.
Most watches will not appreciate at all, so it's best to find ones in good condition on eBay instead of paying retail if you want to have a hobby that might appreciate in value over time.
Then, there are some crazy watches out there that range in cost from $250K to $5.5 million, maybe more. They are for people with no brains.
Here are 10 of the more expensive watches … there are dozens and dozens … some with chimes … some that claim perpetual calendar that is accurate beyond your lifetime … some that claim to be gravity-defying tourbillons … get out your wallet:
https://coolmaterial.com/roundup/expensive-watches/