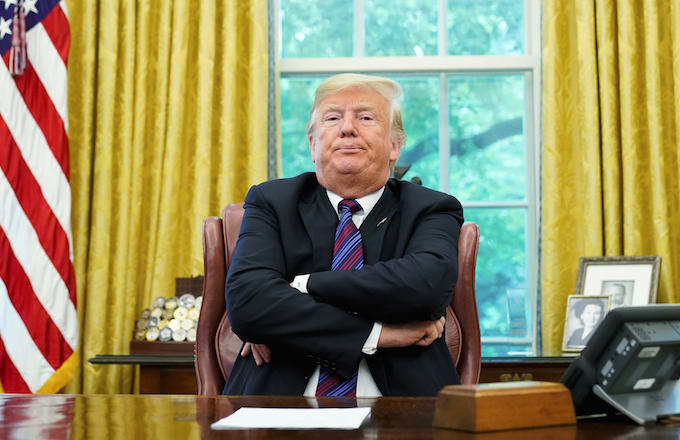 Trump has put his cojones on the chopping block.
What cojones?
Coulter calls border agreement Trump's 'Yellow New Deal'
Conservative commentator Ann Coulter ripped President Trump on Tuesday, saying he is "afraid" to fight for a border wall and calling a bipartisan compromise to avert a government shutdown his "Yellow New Deal."
"Trump talks a good game on the border wall but it's increasingly clear he's afraid to fight for it," Coulter tweeted to her 2.13 million followers. "Call this his 'Yellow New Deal.'"
The tweet from Coulter, who has repeatedly criticized the president in recent months for not securing the necessary funds to build a wall along much of the U.S.-Mexico border, comes as Trump mulls signing off on the compromise reached by Republican and Democratic lawmakers Monday night.
She also warned in a tweet late Monday that the U.S. "will become a socialist country" if the president doesn't get the wall built.
Trump in December stopped following Coulter on Twitter after she declared she would no longer support his reelection if no progress has been made on the border wall by 2020 and currently follows only 45 people and entities, including several Fox News hosts.
"Why would you [vote for him again]?" the provocative author and columnist asked during a Daily Caller interview on Dec. 20. "To make sure, I don't know, Ivanka [Trump] and Jared [Kushner] can make money? That seems to be the main point of the presidency at this point."
"They're about to have a country where no Republican will ever be elected president again," she added. "Trump will just have been a joke presidency who scammed the American people, amused the populists for a while, but he'll have no legacy whatsoever."
Trump on Tuesday told reporters during a Cabinet meeting at the White House that he wasn't happy with the deal reached the evening before.
"I can't say I'm happy. I can't say I'm thrilled," Trump said.
https://thehill.com/homenews/media/429622-coulter-calls-border-agreement-trumps-yellow-new-deal