More documents. These come from the article "New Wild Bunch Documents Surface" by Buck and Meadows. The article is roughly a year and a half after "Leaving Cholila." Just like "Leaving Cholila" this article looks at exciting new documents that have Ryan and also Place's signatures. According to the authors, a 1997 symposium was organized by none other than Senor Marcelo Gavirati. By a strange coincidence, documents that had been sitting around for ninety plus years were found just prior to the symposium by the organizer himself. Wow! How lucky is that? Being in charge of an important gathering and being able to show off this new information would be like winning the Wild Bunch lottery. He must have been the star of the conference with this newly found evidence.
This is the first time that HA Place's signature is found. However, we should remember that a tracing of his signature was found in the Pinkerton files. The HA Place signatures in the newly found document look pretty close to what the Pinkertons have on file.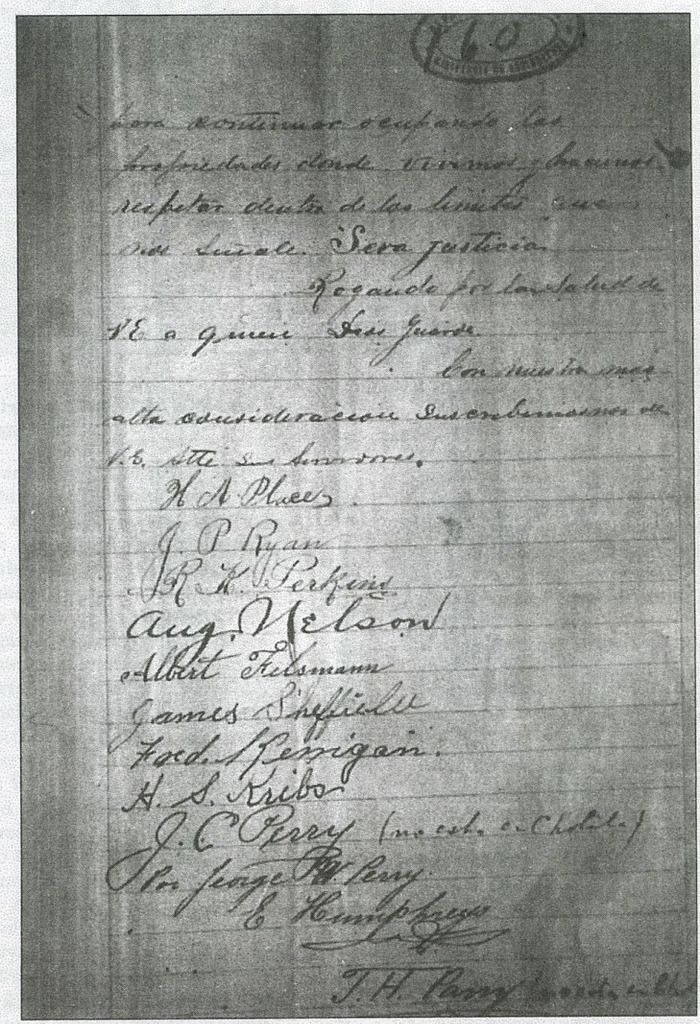 The first document in the article is an undated land office filing has both J.P. Ryan and H.A. Places signatures. The duo must have been excited to sign the filing, as they were first to sign the document.
The other document is a November 5, 1901 cattle brand transfer document for Martin Alberto Underwood, signed by Milton Roberts, who was the government official in charge of brands. (Rumor has it he had a crush on Etta.) Two testigos (witnesses) also sign. John(Juan) Gardner, a new comer to the area who later fell in love with Etta, and H.A. Place. To me, and other people, this document has serious issues.
First, the document lists Martin H. Underwood. It should be Martin A. Underwood. A simple mistake? Maybe or the forger didn't do his homework. Ill let the visual evidence speak for itself. Its not an A
Secondly, where is the government stamp? I couldn't find any other cattle brand registration documents that didn't have stamps. Why is there no pictorial representation for the brand itself? Other brand documents have them.
Thirdly, if Milton Roberts is a government official, why does he need two witnesses to sign? I looked at other cattle brand documents and not one had eyewitnesses sign with the official. Why use Gardner and Place for witnesses when they are newcomers to the area? Both are not well known by this date. Milton Roberts just decides to basically use two total strangers….doesnt make sense
Page twelve of Digging Butch and Sundance describes Milton Robert's account. Milton says Ryan and the Places didn't arrive in Cholila until 1902. How then, can Place have even signed the document? Might want to get this straightened out dan. lol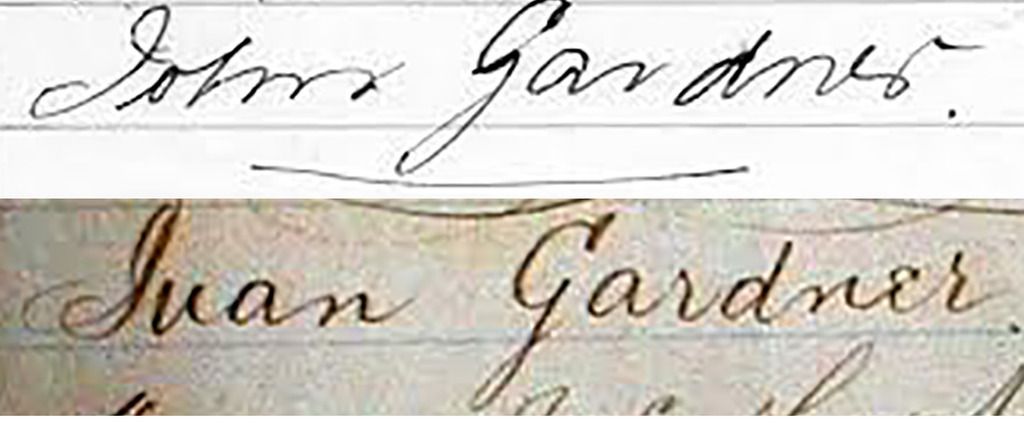 Lastly, John (Juan) Gardner signs his name completely different than he does in a later 1902 official land document. A certified forensic document examiner concluded that the two signatures are not from the same person, but Im sure none of us needed their expertise to see its not the same person