So who's ready to play the most bonkers game this side of PPC Cluedo?
Circular Gallifreyan Scrabble (CGS) is exactly what it sounds like: scrabble played with the fan-made
Circular Gallifreyan writing system
. It's played on a hexagonal grid of interlocking circles, like so: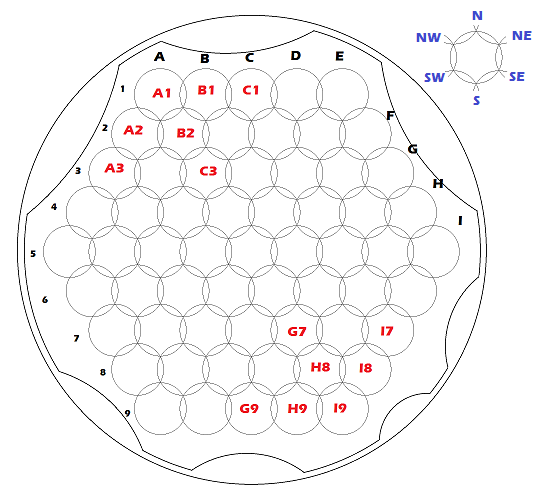 Basic triangular tiles are placed on the intersections of circles. To place a tile on the node between A1, A2, and B2, you could use the notation 'A1-S', 'A2-NE', or 'B2-NW'. All three are equivalent.
There are five triangular tiles, and seven circular tiles which pin into place on top of them. The tiles combine to make the letters of the CG 'alphabet'.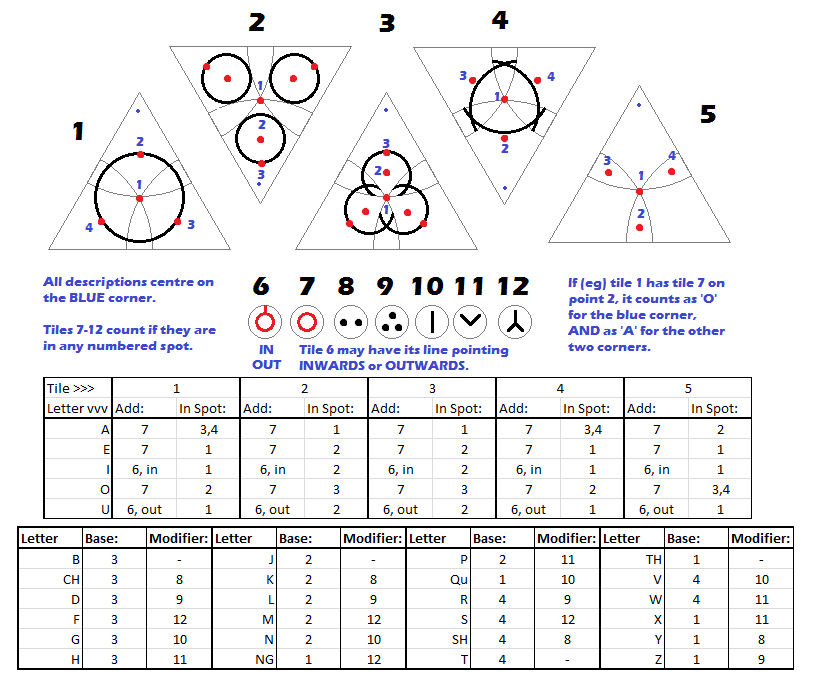 Words are read anticlockwise from the bottom of a circle - the reading order is therefore S-SE-NE-N-NW-SW. Words do
not
have to fill the circle, and do
not
have to be continuous around it. Note that vowels will share a tile with the
preceeding
consonant. For the purposes of this game, circular tiles are permitted to overlap (though not to be placed directly on top of each other).
Any circle with two or more
modifier
tiles (the circular ones) affecting it must make a readable word. A modifier is considered to affect a circle if it sits on a
numbered
dot on any triangular tiles in the circle.
Let's imagine you wanted to write the word 'TARDIS' in circle B2. Each consonant will take up one intersection, and the vowels will sit happily on top of them, leaving two spaces. For whatever reason, you decide to leave the gaps in the N and SW positions.
The first tile, at B2-S, will be the 'T'. From the tile sheet, we can see that this will be tile 4, with no modifier. The vowel 'A' goes on this tile, taking either dot 3 or dot 4. These dots lie outside B2 (in C3 and B3 respectively); we can use either, but we need to be aware that this 'A' is now modifying both those circles as well. If we put the 'A' on dot 3, then from C3's perspective it will be on dot
2
- making it an 'O'!
The next consonant is 'R', in B2-SE. This requires tile 4 (again), this time with modifier 9. With no vowel, we can place 9 on any dot; we'll use 2, inside circle B2, to keep from adding another modifier to C3.
Next we need the consonant 'D', in B2-NE. We place tile 3, which will need modifier 9, but we also need to place the 'I' - modifier 6, pointing inwards, in spot 2. That's fine; we'll place our modifier 9 in spot 3, to keep from modifying the adjacent circles.
Finally, we need to place our final tile, the 'S', in B2-NW. This is another tile 4, with modifier 12. Once again, we see that all four dots are numbered from our perspective, so we can place the modifier anywhere - but we will also be definitely modifying both adjacent tiles! In this case, that isn't a problem, but it's something to watch out for.
That's the technical side of things, but for this game, you won't be doing most of that! To play a round, you'll need to post the word you want to write, which circle you want to put it in, and
any specific details
Details will include which intersections you want to leave blank (if any), and where you want to place modifiers (if you care). If you don't specify where to put the modifiers (which includes the vowels A and O, in the cases where they have multiple options), I will default to putting them inside your circle, or in a location which does not add a second modifier to an adjoining circle.
I'll play the first round, to show off how it's done. Each round will consist of one person (jump in! We're not taking turns) posting a single word, which I will either approve (and post a new board image of), or refuse if it doesn't fit the board. Any accepted word is worth 1 point. (And yes, it is permitted to modify an existing word - provided the entire board still consists of real words at the end!)
Round 1 will be in the first reply. Reply after that to take part.
hS