Slough Town 0 Wycombe 0 - stats,reaction,photos
Saturday 8th July 2017
Stats
Wycombe (1st half): Brown, Jombati, Trialist-LB, Stewart, Muller, Rowe, Gape, Saunders, Freeman, Tyson, Trialist-W.
Wycombe (2nd half): Trialist-GK, Harriman, Jacobson, De Havilland, Trialist-LB, Rowe, O'Nien, Cowan-Hall, Southwell, Hayes, Trialist-LW
Team news notes (wwfcoffical): "Gareth Ainsworth handed trials to four players during the game, including former Wycombe striker Nathan Tyson, while Matt Bloomfield , Adam El-Abd and Scott Kashket were kept sidelined as an injury precaution on the 3G surface, and Adebayo Akinfenwa has just returned from a pre-agreed extended summer break."
Trialists believed to include: Henry Newcombe (goalkeeper), Andrew Fox (left back), Owain Jones (right winger)
Scorers: none
Bookings: none
Slough: Jack Turner, Nathan Smart, George Wells, Alan Inns (c) (Nathan Webb), Mark Nisbet, Lee Togwell (Warren Harris), James Dobson (Pete Skapetis), Simon Dunn, Matt Lench (Paul Hodges), Chris Flood (Gavin James), Sean Fraser. Subs not used: Guy Hollis, Brad Wadkins
Scorers: none
Bookings: none
Referee: Mike Smith
Attendance: 1,047 (note: stated as 1,407 on wwfc official)
Reaction:
Gareth Ainsworth
"Goals would have been nice, but we created many chances and the keeper has pulled off some great saves," he said, speaking after the match.
"No injuries was a big thing for us today, as at the start of last season we were missing too many crucial players at a crucial time.
"So I'm really pleased with the workout; three of the boys got 90 minutes and did well, most of them got 45 with a few of them playing together for the first time.
"The pitch looks great and it is great to be on it, but it is does slow the ball down and the game had no real tempo like it does on a grass pitch.
"But there were some good performances out there today, and I'm pleased with the way it has gone.
"It's early days as we have only been back a week and this will be a million miles away from where we'll be when we come to August 5th, so I'm looking forward to getting through the rest of the pre-season games as we will slowly build and work up to the tempo we need to be at for that first game."
Source:
https://www.wycombewanderers.co.uk/news/2017/july/gareth-ainsworth-post-slough/
Photos
Team sheet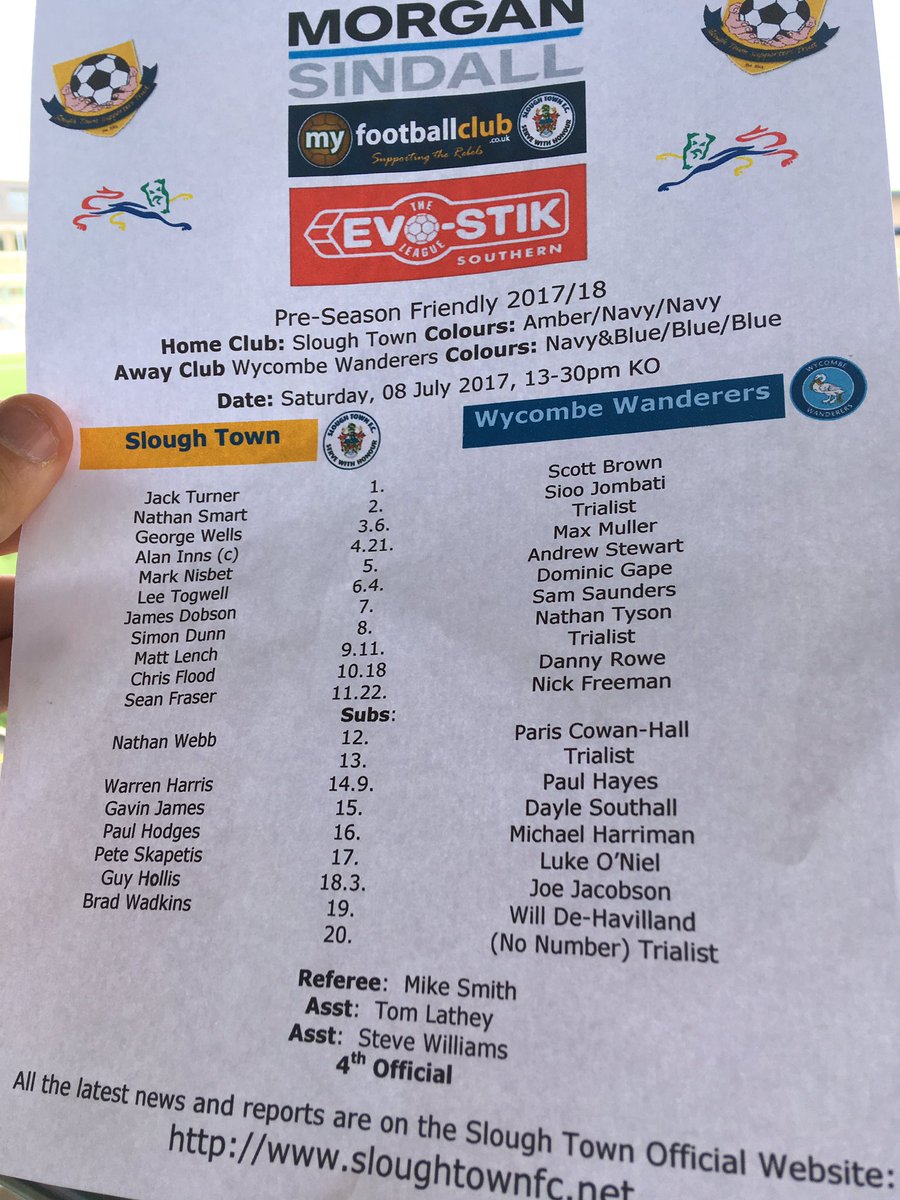 wwfcoficial gallery
https://www.wycombewanderers.co.uk/news/2017/july/gallery-slough-0-0-wycombe/
137 photos available from Gary House on Flickr
https://www.flickr.com/photos/horshamrebel/sets/72157683284271393