Very sad news announced this morning (15th January 2018) of the death of former Wanderer Cyrille Regis at the age of 59.
Best known for his lengthy spells with West Brom and Coventry City, he will also be affectionately remembered by Wanderers followers for his year at Adams Park during the 1994/95 season.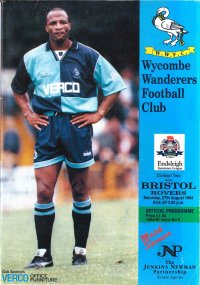 Regis played for Wanderers during the 1994/95 season in the old 'Second Division' division under Martin O'Neill and was part of the squad that ended in Wanderers highest finish to date in the Football League.
Regis (then aged 36) aged was signed by O'Neill in July 1994 following his release from Wolves. He made his First Team debut in the opening game of the 1994/95 campaign – a 3-0 home victory over Cambridge United and scored his first goal in a Wanderers shirt the following Wednesday in the 3-1 defeat at Brighton & Hove Albion in a Football League 1st Round – 1st Leg tie.
His first of nine Football League goals for Wanderers came in a memorable 1-0 victory over Birmingham City at St. Andrews on 30th August 1994 before a crowd of over 14,000.
Regis would continue as a regular in the Wycombe line-up – totalling 35 Football League appearances by the end of the season and striking up a partnership with fellow veteran of the time, Simon Garner (aged 34 at the time Regis signed for Wanderers).
His final game for Wanderers came in the last game of the 1994/95 season when he returned from a spell out through injury – coming on as a half-time substitute away to Leyton Orient and scoring after just 47 seconds for what turned out to be only goal of the game.
Links:
BBC
http://www.bbc.co.uk/sport/football/42687285
Archive match reports from chairboys.co.uk
http://www.chairboys.co.uk/history/1994-1995/1994_08_13_cambridge.htm
http://www.chairboys.co.uk/history/1994-1995/1995_05_06_orient.htm
His ten goals for Wanderers - courtesy of wwfcofficial