No game for Wanderers at the weekend but there was frustration following the results of the other promotion contenders. Late goals for Exeter City and Notts County saw Wanderers place in 3rd spot cut to just two and four points respectively.
The Grecians scored twice in the final 6 minutes of normal time to win 3-2 at Cambridge. While Notts County scored an 86th minute winner to secure a 2-1 home victory over Coventry City.
Accrington took a massive step towards automatic promotion with yet another 1-0 win – this time away to Colchester United - top scorer Billy Kee grabbing vital goal on 63 minutes. Stanley will seal promotion if they beat Exeter at home on Saturday (14th April 2018).
Luton returned to winning ways with a 3-0 victory at Yeovil – who had two players red carded following conceding inside the opening five minutes.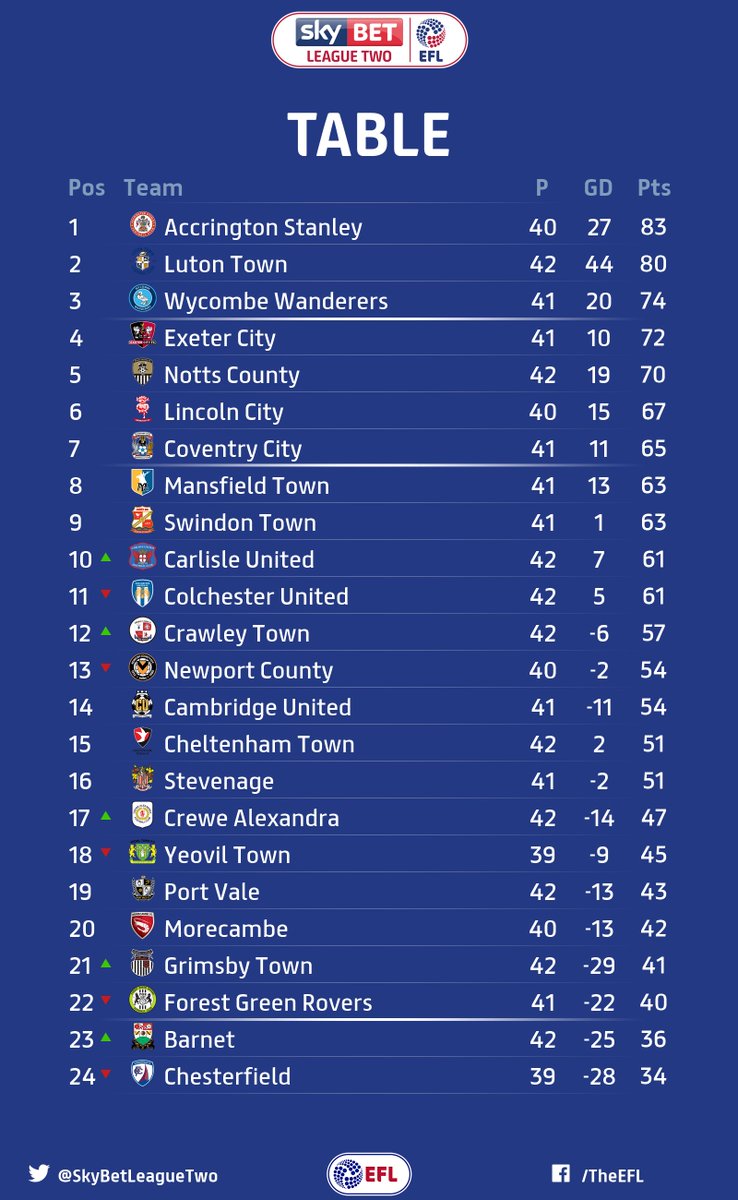 Games on
Saturday 14th April 2018
include
Accrington v Exeter
Colchester v Notts County
Crawley v Coventry
Luton v Crewe
Port Vale v Lincoln
Yeovil v Wycombe
Followed by other games involving clubs chasing the automatic spots.
Tuesday 17th April 2018
Accrington v Yeovil
Exeter v Chestefield
Lincoln v Wycombe
Saturday 21st April 2018
Carlisle v Luton
Exeter v Crawley
Lincoln v Colchester
Notts County v Yeovil
Wycombe v Accrington
Tuesday 24th April 2018
Coventry v Lincoln
Newport v Accrington
Saturday 28th April 2018
Accrington v Lincoln
Cheltenham v Coventry
Chesterfield v Wycombe
Colchester v Swindon
Grimsby v Notts County
Luton v Forest Green Rovers
Stevenage v Exeter
Saturday 5th May 2018
Coventry v Morecambe
Exeter v Colchester
Lincoln v Yeovil
Notts County v Luton
Swindon v Accrington
Wycombe v Stevenage