Ahead of the England v USA Women's' World Cup Semi-Final tie on Tuesday, I have dug out an old article I researched and wrote for Chairboys Gas close to 30 years ago.
You can download the PDF of the complete issue at the foot of the this article but I've also included the complete text for ease of reading - plus an unpublished photo taken in October 1989.
A Womens Game - article first published in Chairboys Gas fanzine – November 1989
The introduction of a Women's football team at Wycombe Wanderers and the staging of the Women's International Friendly between England and Italy at Loakes Park, should have increased local awareness of a rapidly growing sector' of our national game. CG takes its own brief look at the past, present and future of women ' s football.
Womens' football is by no means a new concept, in fact it can be traced back to the late 1880's when many women's matches took place, mainly for charity. Loakes Park first staged a women's match at the turn of the century with an exhibition South v North match (The north won, incidentally).
Women's football, however took a step backwards in 1921 when the F A outlawed the playing of organised women's football. That rule was still in force in November·1969 when the Women's FA was founded with 44 member clubs and it was not until 1970 that the FA rescinded the ruling. Indeed ;it was as late as 1984 that the FA finally invited the WFA to become a member.
Internationally the first ever Women's World Cup took place in Italy in 1970. England were 'represented' in the main by Chiltern Valley, a team who played in the East Midlands Alliance but were outside the jurisdiction of the WFA, who disassociated itself from the venture. Denmark became the first winners of the competition, beating Italy 2-0. The following year Denmark again won the competition by beating Mexico before over·100,000 people at the Aztec Stadium. Play however· was excessively violent. England's match with Argentina in the 1971 competition led to eight English players needing medical attention and two returned home with legs in plaster.
Proper organisation of the women's game came in November 1971 when FIFA and UEFA insisted that members recognise women's football in their countries and ensure proper control and administration.
The first 'official' international match for an England team was in 1972 and since then their major honours have been in winning the little World Cup in Italy in 1985 and 1988; and reaching the final of the UEFA competition in 1984 and 1987. The next UEFA finals will take place in June 1991 with England aiming to qualify via a group containing Norway, Finland and Belgium.
Media; coverage of the women's game in this country has generally been very poor. Yet how can the game expand without the backing of the media? As Linda Whitehead, Secretary of the WFA, has said "Who knew what American Football was until Channel 4 started to cover it?" Live TV coverage is common place in Sweden where there are over 100,000 registered players, whilst in West Germany there are 700,000 players and 3 to 4 million in America. This compares to the WFA with 8,000 registered players in 245 clubs, competing in 21 Leagues in 9 regions.
Last season a major breakthrough was made when extended highlights of the WFA Final was shown on Channel 4 and the England/Sweden game was played at Wembley prior to the men's game with Chile. 
Wycombe Wanderers Ladies team was launched as part of the Club's 'Football in the Community' scheme. Initial. reaction to the team was predictable. "I see Wycombe have started a women's team". Reply "I thought: they've had one of those for years'' .Just one of a number of tedious and prejudiced comments associated with women's Football.
Of course, few are suggesting that women can compete on equal terms with men's football However, given the correct amount of media cover age, the game could evolve to become a popular part of the game particularly if teams are able to associate with and use the facilities of the local club.
Wycombe Wanderer's Ladies, who played an exhibition six-a-side match at Loakes Park prior to the home game with Runcorn, are hoping to compete in the Greater London League next season. The GLL is currently made up of 28 teams, all within a 35 mile radius of Marble Arch, and split into four divisions.
The top division consists of Spurs, Watford, Leyton Orient, Friends of Fulham Reserves, Walton & Hersham, Millwall Lionesses Reserves and Romford. The strongest Women's leagues are generally accepted to be the Horne Counties League Division One which includes Millwall Lionesses and Friends of Fulham and The North West League which includes Leasowe Pacific (last season's WFA Cup winners). Further development of the Womens game may lead to national leagues bei.ng set up with a structure not dissimilar to the pyramid arrangement in men's non-League football.
The Women's game can draw further parallels with the men's non- League game in the way that, in general, it's treated as a novelty watched by a minority. Yet the women's game has more obstructions and hypocrisies to overcome. The traditionally masculine game is a breeding ground for sexist attitudes. On the terraces, female supporters are often subject to sexist comments and abuse. While away from the terraces women are still banned from entering boardrooms or functions of many clubs and stereotyped into a role of being either a "persuasive Female" selling the raffle tickets or at the game only because their husband or boyfriend has dragged them there.
Wycombe's attempt to introduce a Ladies team may be seen by some as purely a publicity seeking exercise under the guise of a community initiative but if the project is carried through to its potential it can only do good for the Club and game.
Researched and written by Paul Lewis (November 1989)
==
Download complete issue of Chairboys Gas this was taken from
http://www.chairboys.co.uk/gas/89-90-2-web-version.pdf
Issue index
http://www.chairboys.co.uk/onthenet/news1415/chairboys_gas_25years_8990.htm
Also here's a previously unpublished photo taken at Loakes Park in November 1989 showing the Ladies Team in the backrow and schoolboy sides at the front.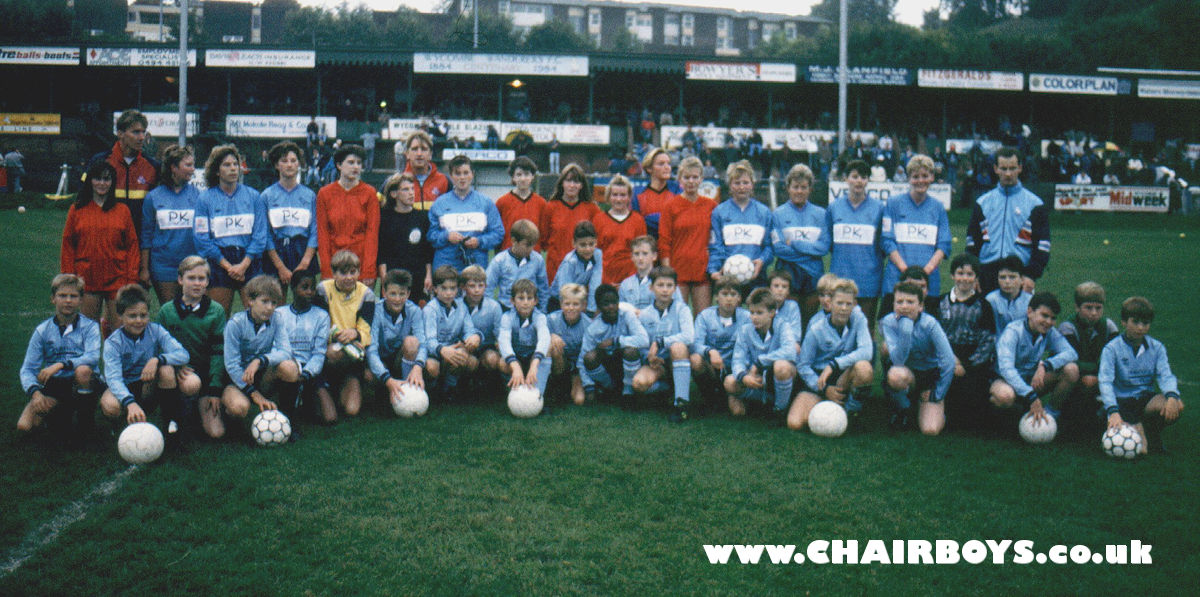 Further reading about Women's match at Loakes Park in 1895
Thanks to Steve Peart for tracking down the original photos and providing the match report
http://pbs.twimg.com/media/Cj8pKxQWkAAmiw8.jpg:large
http://www.donmouth.co.uk/womens_football/loakes_park.html
Wycombe Wanderers Ladies FC for more info via Twitter
https://twitter.com/wycombeladies