[Extracts from Question and Answer session with
Rob Couhig
originally published in the August 2019 edition of
The Wanderer
magazine by
Wycombe Wanderers Independent Supporters' Club
]
What made you choose to invest in Wycombe Wanderers?
RC: Tradition, potential and geography. As Trevor and I spoke, I came to believe that the combination of my experience and management team along with Wycombe's historic relationship to English Football could create a great synergy that will allow us to develop a fantastic club in a very special area.
Will there still be Trust/supporter input in the running of the club, at least at board level? Also, you've agreed to give the Trust first refusal should you choose to sell the club, but if the Trust does not take this option, would Legacy Members have any say in who you then sold to?
RC: Yes, as part of our agreement the Trust will have 1/3 of the members of the board. I have found that client and customer involvement (in this case, fan involvement) is critical to the successful operation of any business. Until I saw the question about the Trust not exercising a potential right to purchase, I never considered another option. The idea of selling any time soon is not something I have contemplated.
You mentioned in the meeting that there wouldn't be a huge increase in the playing budget because of the Salary Cost Management Protocol (SCMP) which dictates that clubs cannot spend more than 60% of their turnover. However, in League One, that turnover can include donations from owners and injections of equity. To that end, are your plans to attain Championship football based on increased revenue and a sustainable budget, or increasing the club's turnover and playing budget through donations?
RC: One of my first discussions was with Gareth about this very thing. Candidly, I am not wealthy enough to annually donate enough money to give the club a championship level budget. In fact, if you look at some clubs around the league, I think that's how other teams have gotten in trouble. Rather, we will put enough money up to support Gareth this year and probably next year as we build a sustainable business model of fan support that will create the necessary revenue, we will need to be successful and sustainable.
Prior to your arrival, Gareth Ainsworth said he'd released few players due to the budget that he would have otherwise retained. Michael Harriman one of those and is currently still a free agent, is there any chance he might now be offered a new deal?
RC: Unfortunately, preseason is almost over and with many players already under contract or having been offered a contract, I suspect it's unlikely. We hope for the best for Michael and we never say never when it comes to a player of his talent. I am excited by the team that Gareth and Trevor have put together.
Do you have any plans to invest in the reintroduction of a youth set up and if so, how long do you think it would take to put in place?
RC: Once the sale is completed, we expect to put into place an under 23 team to assist Gareth and the first team. Hopefully, down the road, we will also re-introduce an Academy. I would be surprised if that took place within the next two years.
What action do you feel is your first priority at the Club?
RC: We have set about to make the fan experience at Adams Park second to none anywhere else. There will be changes in the ticketing; improved concessions and merchandise; we are installing a state of the art Sound system; we are committed to having the cleanest restrooms in the league; and we are busy working with the staff to make sure everyone understands we are here to serve the fans.
At the meeting you spoke of your ambition to see Wycombe Wanderers become a sustainable Championship club. What sort of investment do you think would be required to make that become a reality?
RC: It is going to require a minimum of £2,000,000 to pay off all the associated debt currently affiliated with the club, stadium; and training facility. In addition, we have agreed to fund up any necessary losses from this year and an increased budget for player spending.
We anticipate that amount to be between another £250,000- £1,000,000. In my conversations with Trevor and Gareth, it's become apparent to me that we will ultimately need to have a significant increase in the SCMP to realistically compete for promotion. We are committed to achieving that over the next two years. In the meantime, we are making investments that will build sustainable revenue streams. These will get us to that amount.
You will notice changes in the ticketing, concessions, merchandise, use of the facility, online sales and the like. While progress will take time, it will happen. The total amount will be whatever is required that can be sustained over time.
If we fail to progress in League One, or should the worst happen and we are relegated back to League Two, would you still be happy to continue investing in the club?
RC: My business model is not dependent on promotion or relegation. While I would not be happy if we fail to get promoted or if we get re legated, it will not affect our investment nor continued involvement with the club.
What is your current valuation of WWFC and what would you project the value to be in five years' time if you became a majority shareholder?
RC: Under any reasonable business model an entity that has lost in successive years £400,000 and £700,000 and was well on the way to losing over £1,000,000 has no value beyond the sentimental. However, as a member of the EFL with great fan support and a commercially responsible lease with the stadium, I believe that the Club can become sustainable. At that time, I would expect that a valuation would be some multiple of net revenue. I have no projections as to what that will be.
You talked in the meeting about improving attendances quite significantly from the current average. How do you intend to do that, and do you think it would take a long time to achieve?
RC· I believe that we must make the fan experience so good that regardless of what takes place on the pitch, fans will want to return and bring others with them. This can and will happen. We will also work on the infrastructure to make transportation to and from the stadium easier. I believe this first year we can make important steps toward increasing attendance but it's going to take 2 to 3 years of continual work to get us to where we need to be.
Is it your intention to maintain a standing terrace behind the home goal?
RC: Yes.
The single access route to Adams Park is seen as an inhibiting factor when it comes to improving attendances. Are there any plans to create a secondary route?
RC: Mark Palmer and Peter Couhig are working with other members of the club and supporters to try to solve this perennial issue. It would be irresponsible of me to promise a solution until they have looked at all options. However, we hope to solve the problem and that solution may include a secondary route.
If you become majority shareholder, Adams Park will remain under the ownership of Frank Adams legacy limited (FALL). To that end, who will be financially responsible for any maintenance/improvement work that is required/carried out at the ground?
RC: While the exact lease agreement has not been finalised, it is my expectation that the club will be responsible for the maintenance and improvement work.
If you fail to secure a 75% vote, how to you envisage the Club paying you back the money you'll have invested? How long a period would the Trust have to repay you?
RC: Under the agreement I have with the board, the Club has 120 days to repay me which can be extended by an additional 90 days.
Given that you have to secure a 75% yes vote from the entire Trust legacy Membership, not just 75% of those who vote, do you have a plan to encourage voter turnout?
RC: Yes.
Is there any danger you might get the 75% vote, but then decide not to proceed with the acquisition after all?
RC: No. I will have a signed agreement requiring me to close, subject only to the vote of the Trust, by the time the vote goes to the members of the Trust.
Given the 'Akinfenwa' factor, do you think there us any scope for promoting the Club in the States?
RC: Yes. Peter and I have already discussed with Matt Cecial [Head of Media of WWFC]. By the way, while Akinfenwa will be a significant attribute, many of the other members of the team will be as well. In fact, one of the new signees, Giles Phillips, is from Chicago. Hopefully, a lot of the people in that region will follow him on iFollow [Wanderers' paid subscription news and live match streaming service].
Where would you like to see Wycombe Wanderers in five years' time?
RC: I would like to see the Wanderers as regular members of the Championship with a sustainable business model creating lasting memories for the fans and families.
Do you have an ideal exit strategy and what sort of return on your investment would consider to be successful?
RC: No. With respect to a return on the investment, please see above.
How far do you think you could take this club?
RC: My goal is to build a sustainable business model that will allow us to compete in the Championship. I would not have a goal that I did not think we could achieve.
Can you assure fans that key parts of the club' identity, such as the badge, team name and club colours remain the same?
RC: Yes. In fact, that is written into our preliminary agreement and I expect it will be memorialized in the final agreement.
What do you feel makes up the core identity of Wycombe Wanderers?
RC: An understandable pride in a team that embodies the history, hopes, aspirations, and occasional disappointments of the community.
[From the August 2019 edition of The Wanderer magazine published by WWISC]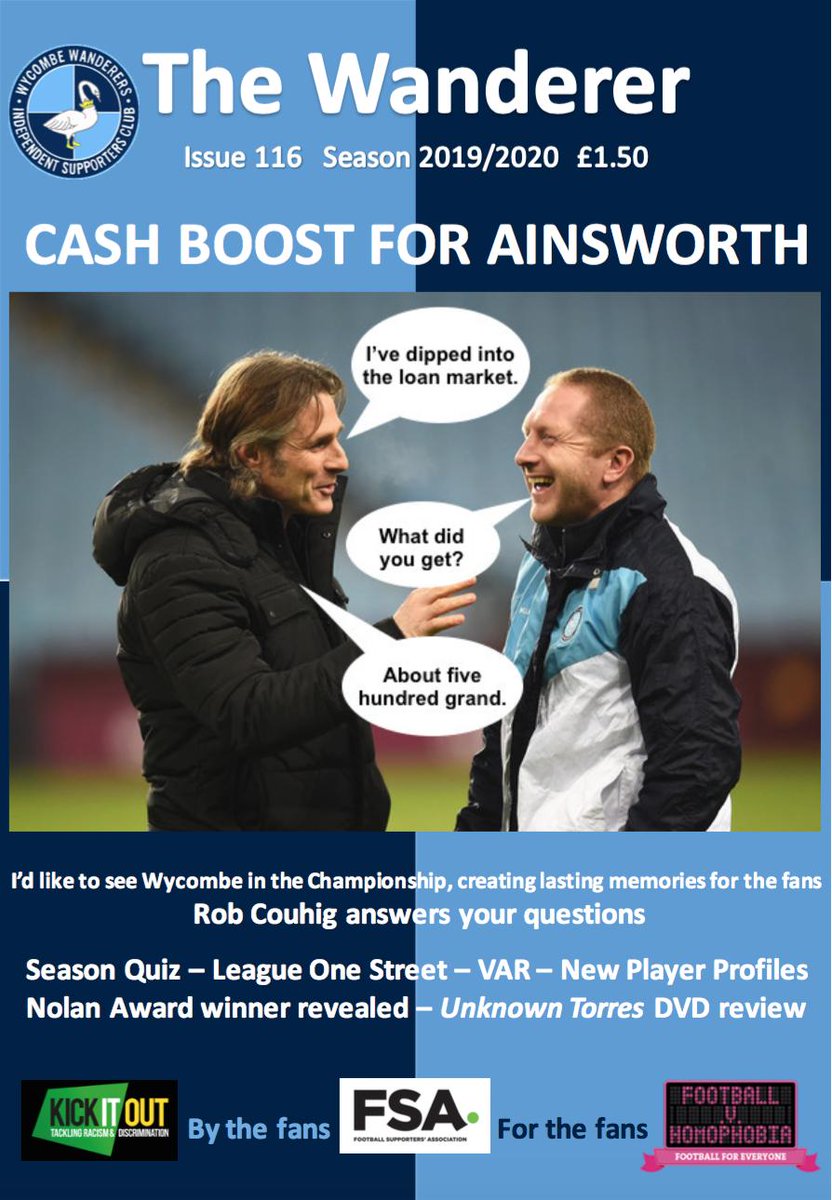 http://www.wwisc.co.uk/
Further reading:EFL Rules and Regulations
Appendix 5 - Financial Fair Play Regulations
For League One see
PART 3 – LEAGUE ONE SALARY COST MANAGEMENT PROTOCOL (SCMP) GUIDANCE NOTES
https://www.efl.com/-more/governance/efl-rules--regulations/appendix-5---financial-fair-play-regulations/
Salary caps and direct action: lessons to learn from Bury's demise
David Conn – The Guardian – 29 August 2019
https://www.theguardian.com/football/2019/aug/29/lessons-to-be-learned-from-bury-expulsion-efl
How realistic is a salary cap for clubs in the Football League? We asked an expert…
Kieran Maguire - FourFourTwo – 28 August 2019
https://www.fourfourtwo.com/features/how-realistic-a-salary-cap-clubs-football-league-we-asked-expert