Seven Arrested in Senator Harkin's Des Moines Office
Over Gaza
Categories:
Nonviolent Resistance Acts
palestine
February 25, 2009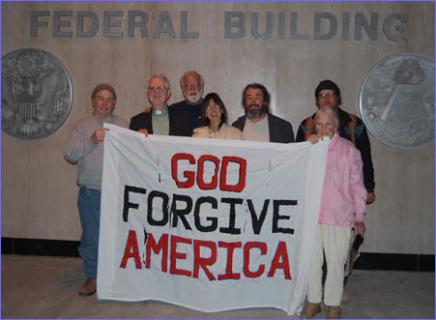 Harkin Occupation: Left to right: Ed Bloomer, Rev. Chet Guinn, Frank Cordaro, Renee Espeland, Brian Terrell, Elton Davis, and Sherry Hutchinson. (Photo: Michael Gillespie)
Four Catholic Workers and three others were arrested this evening when fifteen peace activists occupied Sen. Tom Harkin's office in Des Moines calling the senator to "repent" his voting record concerning the war between Israel and Palestine. Requests of Harkin included a thorough investigation of the war crimes in the region as well as asking Harkin to recant his previous and unqualified pro-Israel voting record. A copy of their statement is attached.
The group paralelled Harkin's historic expose of Tiger Cages (inhumane prisoner detainment cells) used by U.S. forces during the Vietnam War with the Gaza Crisis. Harkin's passion led to banning the use of the cages. The resulting public admiration at that time was the catalyst for his career as an elected official. The group called for Harkin to show the same conscious and courage on behalf of the people in Palestine stating that "All of Gaza is a tiger cage."
Harkin's opposition to international or domestic war tactics has diminished in subsequent years, and his support of Israel has been unwavering. Second only to Dick Durbin, Harkin has accepted more in campaign contributions for pro-Israel PACs than any other senator.
Harkin staff delivered a new statement regarding the Gaza Crisis the Senator had issued the day before in anticipation of the group's visit. When the statement failed to meet any of their requests, peace activists remained in Harkin's office from 1:30 to 6:00 p.m. reading aloud written accounts of death and suffering in the recent attacks in the Gaza Strip. Seven members of the group refused to leave at the 6:00 p.m. closing time and were arrested. They are Des Moines Catholic Workers Frank Cordaro, 58, Renee Espeland, 47, and Ed Bloomer, 61, as well as long-time Des Moines peace activist Sherry Hutchison, 90, Elton Davis, 47, Rev. Chet Guinn, 80, also from Des Moines, and Brian Terrell, 52, from Strangers and Guest Catholic Worker House in Maloy, Iowa. All seven were cited and released.
http://vcnv.org/seven-arrested-in-harkins-dm-office-over-gaza-crisis