A Passenger Of A Plane Films At Least Eight Mysterious UFOs
Posted on November 27, 2015 by LUFOS in Asia, daytime UFO, Latest posts, UFO videos // 3 Comments
airplane-orbs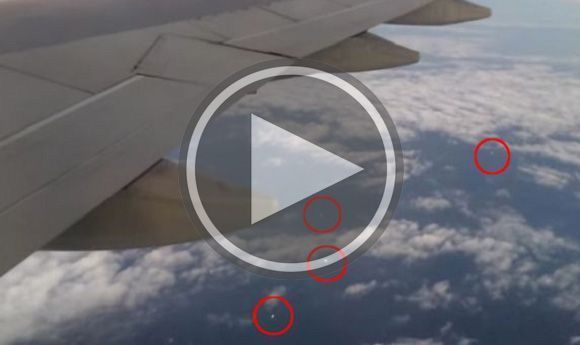 A plane's passenger claim he has captured a strange activity involving at least eight UFOs that hover below a commercial flight to Taiwan.
The witness pulled out his iPhone to document the unusual event on video. He claimed to have seen between eight and ten bright lights in the sky below the right wing of the aircraft.
But not everyone is convinced the man records something strange.
According to the witness report submitted to the Mutual UFO Network (MUFON), he was on the Eva Airlines from Vancouver to Taipei.
The report says the witness saw a bright light flying under the aircraft thirty minutes before landing. He then claims that three more UFOs appeared for several seconds. The unidentified witness believes he sees a total of at least eight bright UFOs beneath the aircraft.
The incident took place on October 16 at 5 in the morning as the plane was travelling northeast of Taiwan.
MUFON uploaded the video to YouTube on November 25 and had thousands of views.
But some viewers are not convinced by the footage.
One YouTube user said, "Those are reflections. MUFON, please filter your sightings so we can keep the real ones from the ones we can explain."
But another viewer disagreed and said that it's an excellent video and those are clearly not reflections.
Your opinion?
Fake (4)
Real (61)
Not Alien (15)
What others are reading right now:
Volcano Japan UFOUFO recorded over volcano eruption In Japan ufo sightingDaytime UFO over Jakarta, Indonesia 17-Jul-2015 India UFOFlying saucer caught on tape over Nagpur, India? ufo-indonesiaUFO Footage: Strange Metallic Orb Filmed Over Indonesia
2015
Taiwan
3 Comments on A Passenger Of A Plane Films At Least Eight Mysterious UFOs
Michelle // November 27, 2015 at 6:07 pm // Reply
Not sure what they are but I am always disappointed by the brevity of the vids. I know very often batteries are low especially after taking tourist shots etc, but it would be nice now and then to see a video which shows how and when these sightings disappear.
Shane Bennett` // November 27, 2015 at 6:17 pm // Reply
Reflection from sun.
pete ashton // November 27, 2015 at 7:10 pm // Reply
Looks like ground lights to me . They dont appear to be moving and act as if stationary when plane enters clouds.
Bitch:
As there were 8 to 10 space craft, might that indicate something?
Maybe 8 or 10 people on that plane that are involved in nuclear war fighting activities?
Are we understanding that our elders from outer space are "MARKING" things for us to check out?
VIDEO AT
http://www.latest-ufo-sightings.net/2015/11/a-passenger-of-a-plane-films-at-least-eight-mysterious-ufos.html
UFO PREVENTS NUCLEAR SHOTS
The picture above of two great fireballs in the sky is from Vera Beach, Florida of a CE-5 event. That is where the viewers had been visiting with our extraterrestrial elders from space and agreed ahead of time to meet there.
Possible meteor captured flashing across night sky in Iowa
12 hours ago December 29, 2013 3:26PM
A GIANT 'ball of fire' which shot across the night sky in Iowa in the US Midwest has been captured in incredible security footage.
That is the great ball of fire that was burst off before reaching Chelyabinsk. Might we wonder who has such technical capability to approach from behind and shoot a rod right through the great ball of fire?
The flash of the exploding nuclear warhead of an air-to-air rocket is shown as a bright sun in the eastern sky at 7:30 a.m. July 19, 1957 at Indian Springs Air Force Base, some 30 miles away from the point of detonation. A Scorpion, sister ship of the launching aircraft, is in the foreground.
(National Nuclear Security Administration / Nevada Site Office)
The picture to the right is of the fireball that exploded over Chelyabinsk, February 15, 2013.
To the farthest right is the fireball over Argentina 4-21-2013
Details at:
http://bitchworld.weebly.com/ufo-prevent-nuclear-shots.html